Where will Manny Machado land in 2019? That question is not just burning throughout the majors, but it is a hot topic at Sony as well. MLB The Show 19 will hit shelves in just over a month from now, and Machado along with Bryce Harper are yet to have a place to call home. That itself is making MLB The Show 19 predictions more interesting between gamers.
Machado without a home
Is Manny Machado losing his buying power? It seems that way. The longer the star shortstop holds out does not favor him in getting a deal he wants. Heading into 2018, Machado was the top-rated shortstop with an 86 ranking.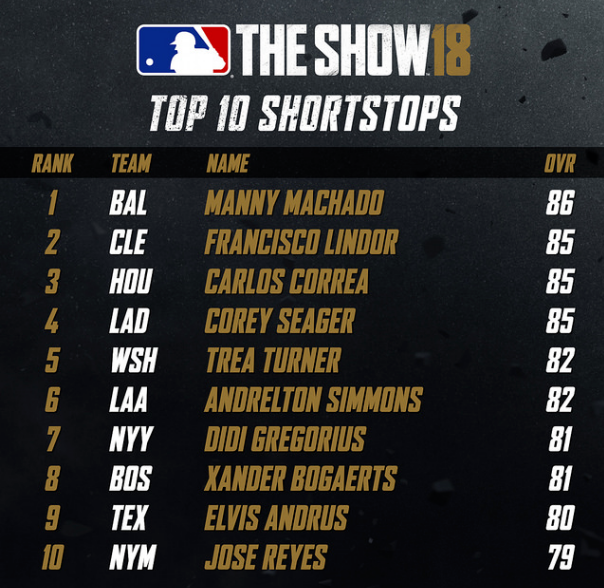 While Machado did have a great 2018, is he worthy of holding the top spot again? It is debatable.
When looking at the 2018 ratings, two players who aren't on that list need some serious consideration as a top-five player. Colorado's Trevor Story and Chicago Cubs star Javier Baez weren't on the preseason top ten last season. They have to be this year.
Story had an incredible 2018. The Rockies slugger hit 37 home runs, drove in 108 and finished with a .291 average. That alone has him in the top five. Baez is also heading into 2019 off a great season. With a stat line of 34/111/.290, how can you argue a top ten spot?
2019 Rating predictions
In 2019, out of the top ten shortstop list are Jose Reyes and Elvis Andrus. Didi Gregorius is also out of the top ranks, but that is mainly due to an injury. While Machado still gets the No. 1 spot, he is in a dead heat with Red Sox slugger Xander Bogaerts. They both are at a solid 87 rating.
Story is the biggest mover from 2018 as he now sits at No. 4 overall at shortstop with an 86. If the Rockies are going to contend in 2019, they will need the Irving, Texas native to come up big once again.
Below is a look at the 2019 MLB The Show 19 predictions at shortstop.
Manny Machado, N/A – 87
Xander Bogaerts, Boston – 87
Francisco Lindor, Cleveland – 86
Trevor Story, Colorado – 85
Andrelton Simmons, Los Angeles – 84
Carlos Correa,  Houston – 84
Javier Baez, Chicago Cubs – 82
Jean Segura, Seattle – 82
Trea Turner,  Washington – 81
Corey Seager, Dodgers – 80
To keep up with all the latest news, ratings, rumors and info, be sure to stop by our MLB The Show home page.