In the latest MLB The Show 19 roster update, several players are finally getting their due and moving on up the ladder! However, this week isn't all rosy for every player on the list. While a few players made the jump to Gold and Diamond, many of the 130 roster moves weren't all positive.
Roster update new Diamonds
Two new players rose to Diamond status over the weekend! Houston's George Springer and Los Angeles' Andrelton Simmons both made the jump from Gold to Diamond.
After an incredible 10-game run, Springer jumped from 82 OVR to 85. Springer has been a huge part of Houston's current streak in which they have won nine of their last 10 outings.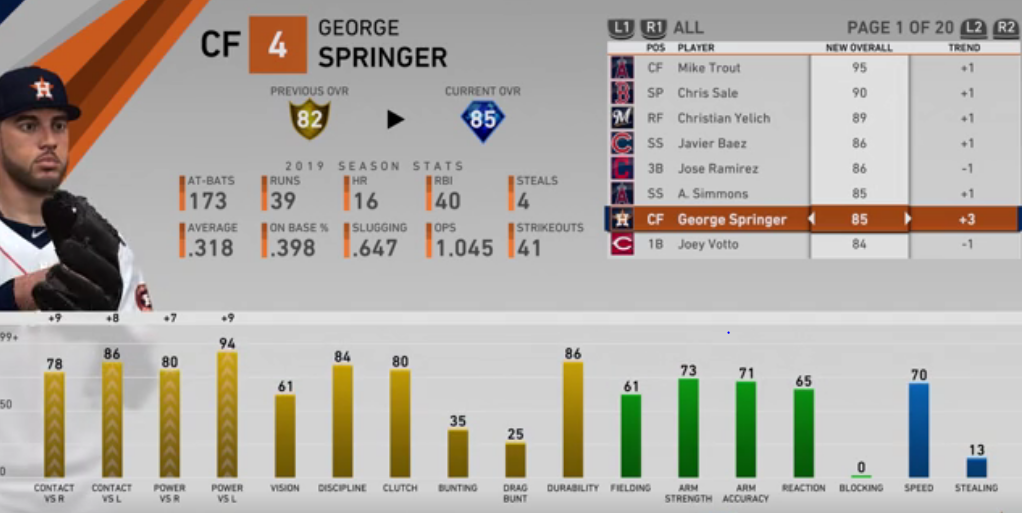 Simmons, who also has been hot, moved up one from 84 to 85. The Angles have a lot of ground to make up, as they currently trail the Astros in the NL West by eight games.
Gold status
While Simmons and Springer both improved to the Diamond level, Houston's Michael Brantley, St. Louis' Paul DeJong and Chicago's Jon Lester were the only three players to move from Silver to Gold status.
Brantley's power went up a +12, helping move his OVR rating from 78 to 81. Dejong moved from an OVR 78 to an 80, while Lester made the Silver to Gold jump as his 79 OVR moved up 1-point to an 80.
To see all of the latest MLB The Show 19 roster updates be sure to click here.