The latest MLB The Show 19 Topps Now Moments have arrived. The calendar has now flipped to May, however, there are still some April plays that must be attended to. Fans also need to be introduced to Vladimir Guerrero Jr!
New Topps Now Moments
The newest Moments to hit MLB The Show feature some new MLB blood along with a steady veteran. A lot is expected of Toronto's Vladimir Guerrero Jr. and San Diego's Chris Paddack. While only time will tell if they are the real deal, they are off to good starts.
The third player in the latest Topps Now Moments is Colorado's Nolan Arenado. Arenado has become a staple at third base for the Rockies since 2013. He is also one of the best hitters in the game today. In fact, Arenado and Washington's Anthony Rendon are considered the top two ranked third sackers in the National League.
Vladimir Guerrero Jr Arrives
Without further ado, let's get to the Moments, starting with a kid who may be a chip off the old block!
Vladimir Guerrero was a beast on the field. His son has the potential to be even better. On April 26th, Vladimir Guerrero Jr. made his Major League debut. It was so exciting that media showed up early just to watch him take batting practice.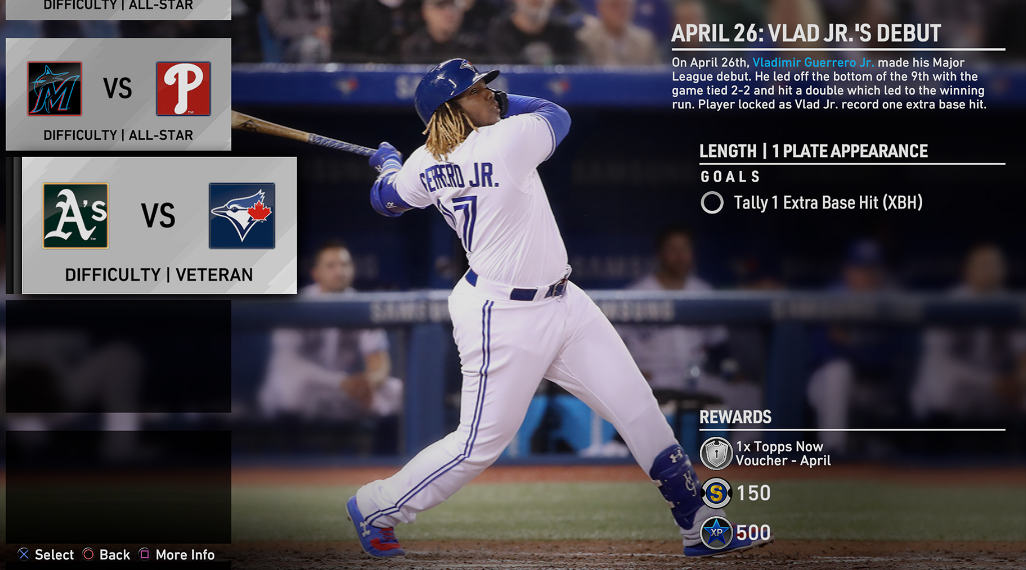 Vladdy led off the bottom of the 9th with the game tied 2-2 and hit a double which led to the winning run.
Next up, Nolan Arenado. On April 22, Arenado collected his 1,000th hit in his career. It was a go-ahead home run. Arenado collected three hits that day. Now it is up to you to do the same. Locked in as Nolan Arenado, replicate his performance by tallying three hits and one home run.
Finally, it is San Diego rookie Chris Paddack. On April 24, Paddack blanked the Mariners for seven innings while striking out nine for his first career win. When you play locked in as Paddack, you can recreate his dominant performance.
Keep up with all the MLB The Show news and rumors by heading over to our home page.