Throughout the season, MLB The Show 20 Player Program brings different stars into the mix for Diamond Dynasty. As of Tuesday, March 24, the featured star player is former Chicago Cubs pitcher Kerry Wood. Gamers now have a set of challenges or missions available to earn a Kerry Wood item for their roster. Read on for how to earn that Diamond Kerry Wood card.
How to complete MLB The Show 20 Player Program for Diamond Kerry Wood
MLB The Show 20 has Chicago Cubs star Javier Baez on the cover, and after some Twitter teasing, they've unveiled a new Diamond Dynasty card for Cubs reliever Kerry Woods We've got the full details below on what is involved to earn the Diamond card for MLB The Show 20 Player Program.
Once you get into the Diamond Dynasty mode, head over to choose "Programs" on the menu screen. Choose "Player Programs." This will bring up all of the available Player Program choices including the new 85 Diamond Kerry Wood. Choose that one from the available options.
You'll now see a screen which shows the All-Star Kerry Wood Missions and Moments. Missions involve using your own Diamond Dynasty squad to perform certain tasks, as shown below.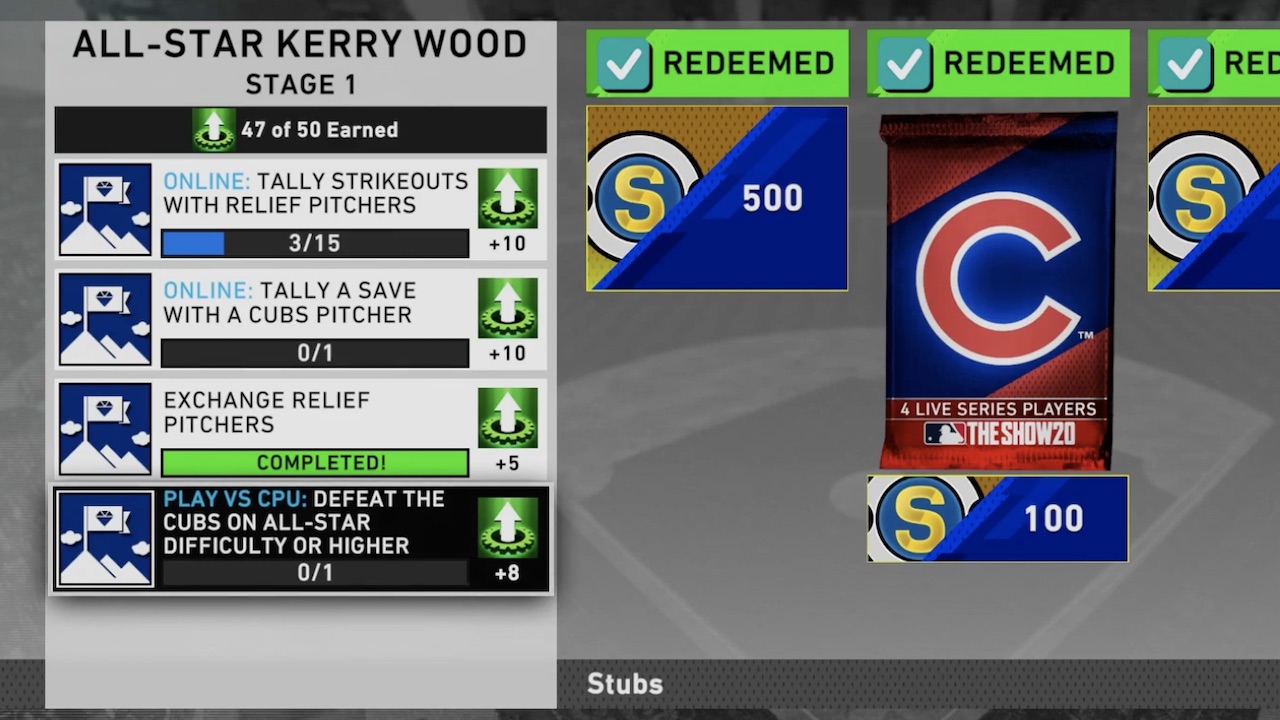 Moments match up with various key moments from Kerry Wood's baseball career. For example, on "First Career Save," you're recreating Wood's save against the Brewers from April 3, 2008. It involves you taking over as Wood in the 9th with the Cubs up 6-3. Strike out two batters and get the big save.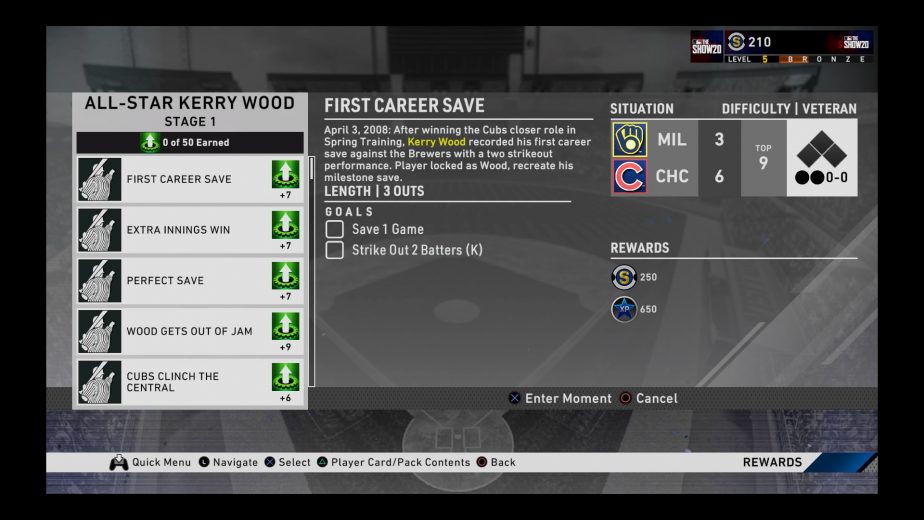 Each of the individual Missions and Moments will earn a certain amount of points as you complete them. You also earn rewards along the way at specific points milestones, including:
10 Points – 500 Stubs for 10 points,
20 Points – 4 Live Series Players and 100 Stubs
30 Points – 1,000 Stubs
40 Points – 4 Live Series Players and 250 Stubs
Tally 50 points to get Kerry Woods
The main objective is to rack up 50 total points by completing any combination of these. If you play through all of the Moments, you'll tally 42 points. From there, you need eight more, and that may mean simply going to "Missions" and choosing the "Defeat the Cubs on All-Star Difficulty or Higher" for eight points.
The YouTube video below gives details of how the program works and also a good overview of what the Diamond Kerry Wood card has to offer.
In addition to Player Program, there's a new Weekly Challenge featuring Cody Bellinger taking on Johnny Cueto. In addition, they released the new Headliner Set 4 featuring legendary catcher Johnny Bench.
Visit our MLB news page for more of the latest game updates.