With San Diego Studio's baseball game out since late April and baseball season in full swing, they've recently released their MLB The Show 21 May Monthly Awards Program. It features a new Lightning Diamond card for the player of the month, Marcus Semien.
In addition, there are six other player cards available which gamers can acquire on their way towards earning more XP for the 3rd Inning Program. They include several choices that make sense, but there are also some snubs that fans have noticed.
Marcus Semien is MLB The Show 21 May Monthly Awards winner
While Vladimir Guerrero Jr. is emerging as the young star many expected, his Blue Jays teammate has been playing great as well. Marcus Semien currently has played in as many games as Vlad Jr., and has a .294 batting average, 67 hits, 13 home runs, and 32 RBIs. While his teammate is leading in almost all categories, Semien is second in many, and leads the Jays with eight stolen bases.
As many expected, Semien is officially MLB The Show 21 May Monthly Awards winner. That brings Diamond Dynasty fans a new 96 overall Lightning card, as shown below.
The 6-foot Jays second baseman can also play third or shortstop for Diamond Dynasty teams. Among his attributes are 125 Contact Right, 88 Contact Left, 93 Power Right, and 108 Power Left. Semien also gets 100 Plate Control, 88 Fielding, 99 Durability, and 73 Speed ratings.
To unlock Semien's new Lightning card requires completing the various tasks or moments in the May Monthly Awards program. These include different feats involving specific players or cards.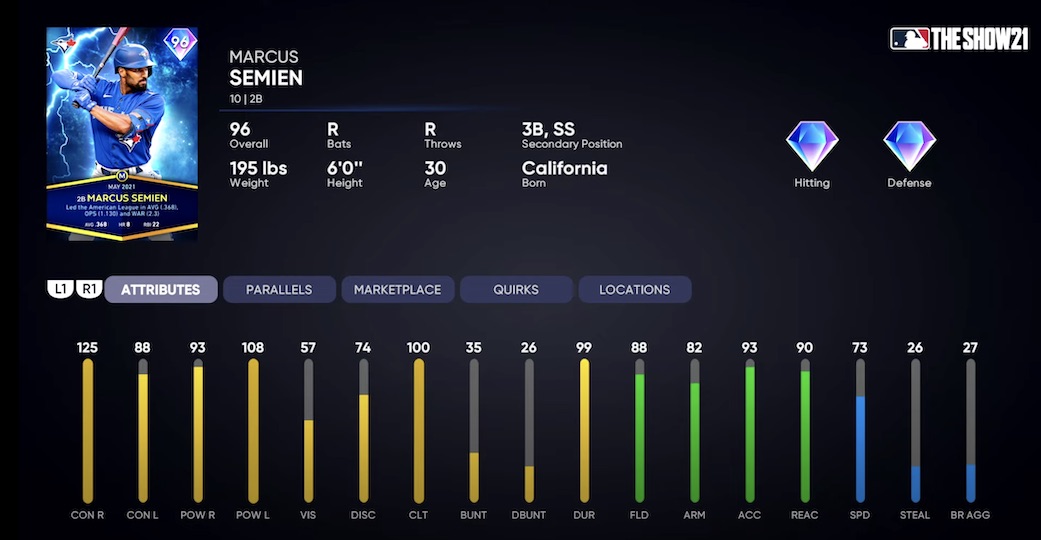 Other player cards released for Diamond Dynasty
In addition to Semien, they released other Diamond players for MLB The Show 21 May Monthly Awards program. A 93 overall, Jose Abreu leads the way, followed by Yankees starter Corey Kluber with a 92 OVR.
There's also A's center fielder Ramon Laureano and Giants shortstop Brandon Crawford. Left fielders Jesse Winker of the Reds and Austin Meadows of the Rays round out six other Diamond player cards.
Check out the new cards below, with the lowest rating coming in at 88 OVR.
Gamers can earn the cards above as they progress through the various levels of the Monthly Awards program in Diamond Dynasty mode. As one would expect, the Lightning Diamond Marcus Semien is the top prize at the final tier for the program. In addition to the cards above, other rewards include packs and MLB The Show Stubs.
The above cards bring potential snub discussions in terms of May Monthly Awards players. Among the names coming up a lot are the Reds' Nick Castellanos and Dodgers' Max Muncy, who seem deserving of recognition. Muncy already has an 88 overall Diamond card available at this point, so it should be interesting to see if he has a better card on the way.
Other players popping up in Twitter comments have included Hunter Renfroe of the Red Sox and pitcher Kevin Gausman from the NL West division-leading Giants.
Check out GomesdaLegend's video below which takes a look at each of the MLB The Show 21 May Monthly Awards cards.
Visit VGR's MLB page to get more updates about The Show and other baseball video games.