The very first mode which gamers got to play in Call of Duty: Modern Warfare, Gunfight is an intense new addition to the franchise; a 2v2 mode which pits pairs of players against one another in especially small maps. Now, players have the chance to compete tournament-style in Gunfight, thanks to the newly-launched Gunfight Tournament Beta.
The New Modern Warfare Gunfight Tournament Beta
The core 2v2 gameplay of Gunfight will, of course, remain the same in the Gunfight Tournament Beta. However, the Beta adds a larger tournament structure on top. This bracket-style, single-elimination tournament features 32 players in 16 teams. In the menu, you'll be able to see the teams on the brackets, and in-between your matches you'll wait in this menu. If you win your first round of Gunfight, you'll advance to the next bracket while your opponents are eliminated.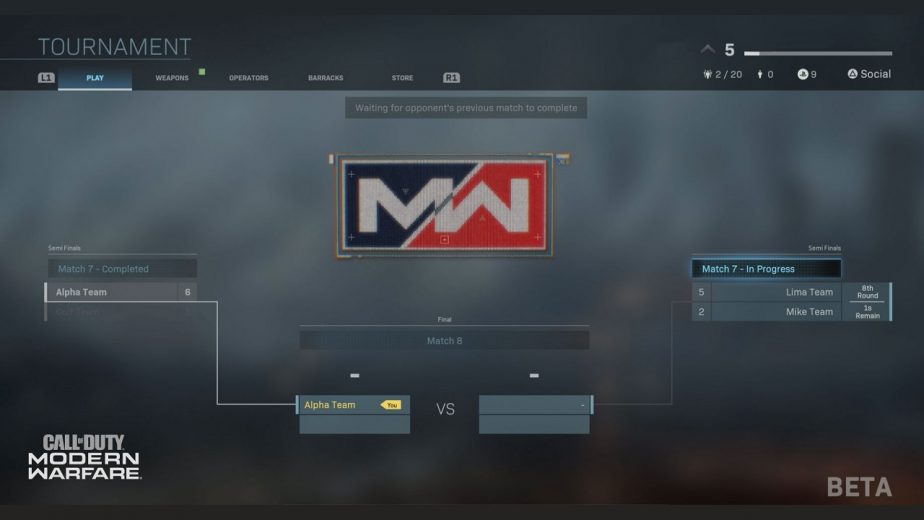 For every round you win in a tournament, you'll get XP, as well as other rewards. There is also a "high tier cosmetic item" which you can get the first time that you manage to win an entire tournament. If you want to stand a chance of winning, of course, you'll need a winning strategy. For Gunfight, communication is key. This is a perfect mode for playing with a single friend who you can chat with. Live communication is vital for working as a team in fast-paced Gunfight matches.
For now, of course, the Gunfight Tournament Beta is just that; a Beta. That means that Infinity Ward may make tweaks and changes once they see how things are going. However, it's certainly interesting to see the studio bringing this sort of competitive format to Modern Warfare. It may be the case that Gunfight's uniquely short format lends itself well to the tournament structure, but it might be interesting to see them attempt a similar tournament structure for other modes as well.