After months of waiting, the second of the two DLCs for The Elder Scrolls: Online which were announced earlier this year at E3 has officially launched on PC today. The Murkmire DLC follows the Wolfhunter expansion, which launched several months ago. Unlike Wolfhunter, Murkmire is a much more substantial DLC, and offers fans their first opportunity to return to Black Marsh since the original release of The Elder Scrolls: Online.
The ESO Murkmire DLC Game Pack Launches Today
Bethesda has been promoting the Murkmire DLC for weeks. The game's prologue has been available to play for free for the past two weeks. Indeed, the Murkmire DLC itself has been playable on the game's PTS servers for even longer. Bethesda has even published no fewer than three character profiles detailing characters from the DLC; Famia Mercus, Jaxsik-Orrn, and Xukas. Today, however, the newest game pack officially launched for the PC version of The Elder Scrolls: Online. The console version of Murkmire will launch for Xbox One and PlayStation 4 on the 6th of November.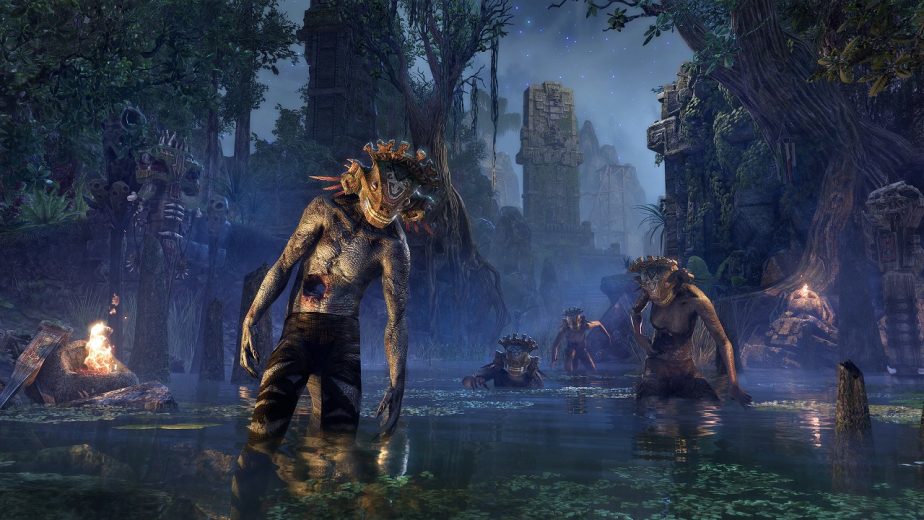 The Murkmire DLC can be purchased via the in-game Crown Store using crowns. Alternatively, subscribers to the ESO Plus service will be able to access it for free. There is also a third way to acquire the new game pack, via November's Daily Rewards. Players who log into the game for at least 24 days in November can earn Murkmire free of charge.
The Murkmire DLC includes an entirely new region set in Black Marsh, the jungle homeland of the Argonians. The game pack introduces a new faction, a new group arena called Blackrose Prison, and plenty more besides. The Elder Scrolls: Online's latest update is also launching alongside Murkmire, bringing with it major changes to several of the game's modes outside of the new content. This patch is, of course, free for everyone who owns the game.