The latest NBA 2K18 roster update is now live.  We've got the updated player ratings for the starters on the top 4 seeded teams in the Western Conference.
James Harden and Kevin Durant have the highest ratings in the conference with 96 overalls.  That is 1 shy of Lebron James' rating of 97 overall.  As expected, LeBron James led the Eastern Conference on overall rating.
NBA 2K18 Ratings Western Conference
Houston Rockets
We'll start with the top seed in the Western Conference, the Houston Rockets.  They ended the regular season with the best record in the NBA at 65-17.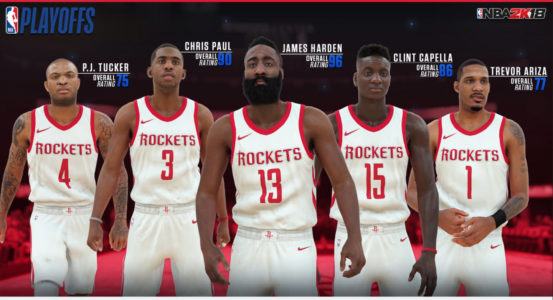 P.J. Tucker – 75 Overall
Chris Paul – 90 Overall
James Harden – 96 Overall
Clint Capella – 86 Overall
Trevor Ariza – 77 Overall
Golden State Warriors
Next up is the Golden State Warriors who ended the year with a record of 58-24.  Steph Curry's injury definitely makes the Warriors a little weaker then usual but they still have a very solid team.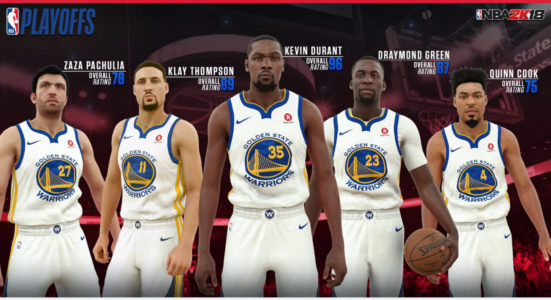 Zaza Pachulia – 78 Overall
Klay Thompson – 89 Overall
Kevin Durant – 96 Overall
Draymond Green – 87 Overall
Quinn Cook – 75 Overall
Portland Trail Blazers
The 3rd seed in the West is the Portland Trail Blazers with a regular season record of 49-33.  After the top 2 seeds in the west, the rest of the playoff teams are pretty even.  You can check out the Trail Blazers' player ratings below.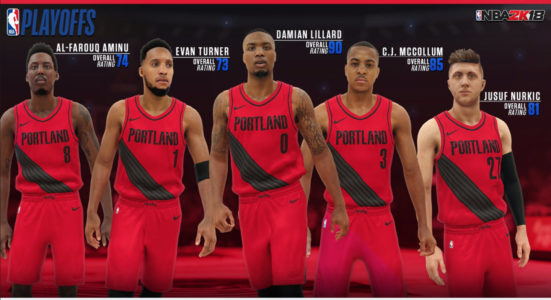 Al-Farouq Aminu – 74 Overall
Even Turner – 73 Overall
Damian Lillard – 90 Overall
C.J. McCollum – 85 Overall
Jusuf Nurkic – 81 Overall
Oklahoma City Thunder
The Thunder are the 4 seed in the Western Conference with a regular season record of 48-34.  They are led by their superstars Russell Westbrook and Paul George.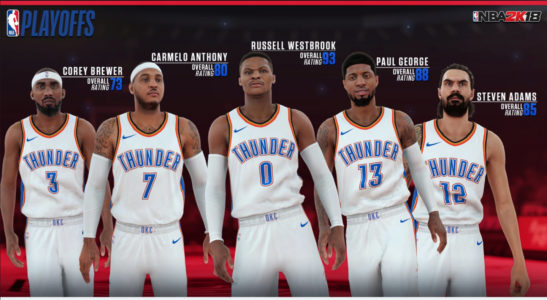 Corey Brewer – 73 Overall
Carmelo Anthony – 80 Overall
Russell Westbrook – 93 Overall
Paul George – 88 Overall
Steven Adams – 85 Overall
The player ratings for the top 4 teams in the Eastern Conference can be found here.