The NBA 2K19 MyTeam continues to bring basketball enthusiasts some top-notch player cards to add to rosters. The latest are in honor of multiple-time NBA All-Star and champion Dwyane Wade. The Miami Heat star announced the 2018-19 NBA season would be his last, but luckily there are still NBA 2K19 MyTeam cards to achieve. Here's how to get Dwyane Wade Signature Series in NBA 2K19.
NBA 2K19 MyTeam cards: Dwyane Wade Signature Series now available
Fans saw Dwyane Wade play in what may have been his final All-Star Game this past Sunday for Team LeBron. Just last night, Wade came off the bench to lead the Miami Heat in scoring. He appears like he should be a future Basketball Hall of Fame candidate. As of Friday (Feb. 22), 2K19 MyTeam dropped four brand new cards for "D-Wade" in honor of his impressive career.
One of the best to ever do it 💪 We're honoring Dwyane Wade's last dance by letting you run with 4 different versions of Flash in his prime #MyTEAM pic.twitter.com/1X2v0Osw8U

— NBA 2K19 (@NBA2K) February 22, 2019
These new NBA 2K19 MyTeam Cards are part of the Signature Series. All of the cards carry different overall ratings scores. So there are a Ruby (89), Diamond (92), Amethyst (95), and Pink Diamond (97) cards. In addition, there is a Pink Diamond Signature Limited (97) card for the Miami Heat All-Star. Only the 89-rated Ruby card is associated with the Chicago Bulls, as the three other cards are Miami Heat cards for "Flash."
How to get Dwyane Wade Signature Series cards in NBA 2K19
So how do you get the new Dwyane Wade Signature Series cards in NBA 2K19 MyTeam? First, you'll need to head over to the MyTeam section on the game's screens. Make sure your game system is connected online as it will need to connect to the 2K servers.
From the "Home" tab of the MyTeam area, you'll see the Market on the screen. It should show the latest available MyTeam packs. Select that and you'll see the Dwyane Wade Signature Series (below).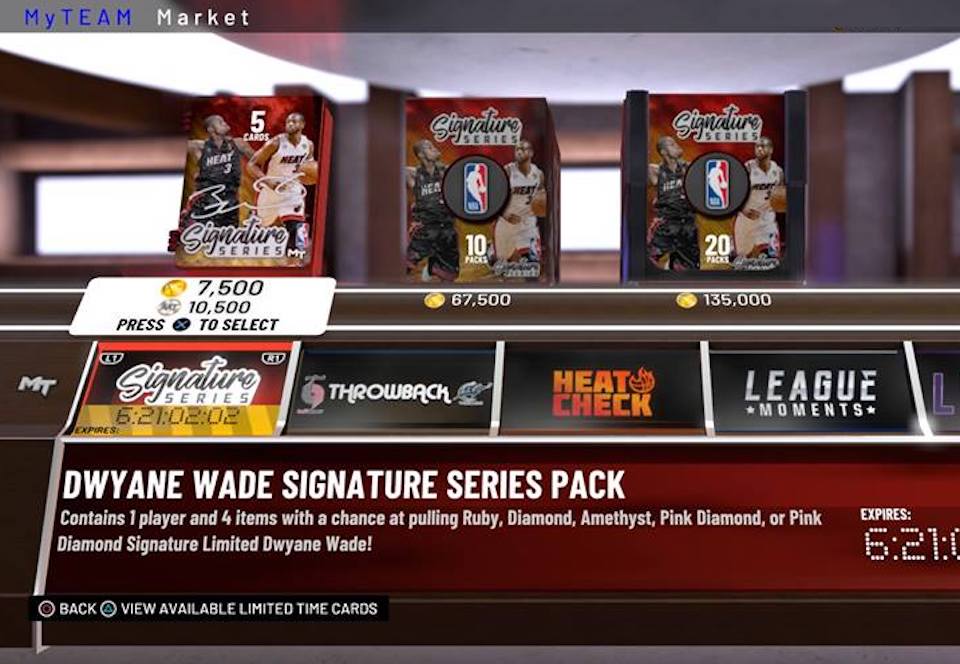 Landing one of those valuable D-Wade cards involves spending Virtual Currency or MyTeam points to get Signature Series packs. They currently cost 7,500 VC or 10,500 MyTeam points.
Keep in mind, you may not draw a Wade card from buying one pack, as there is a shot at getting one. So ballers may need heft bank accounts on the game in order to open multiple packs. There are reduced rates for buying 10 packs or 20 packs if you've got the currency for it.
One other option is to purchase a D-Wade card, but you'll need to have the Auction House available. Prices may be steep there, though. Find out how to unlock the Auction House here.
Have you been able to pull a Dwyane Wade Signature Series card in NBA 2K19 MyTeam yet? Let us know how that player card has been for your lineup below.