Putting together a squad full of star players within the NBA 2K19 game is challenging, but rewarding, and fun to participate in. It mostly involves building up your virtual currency in the game in order to purchase packs. In addition to that, you can go to the NBA 2K19 MyTeam Auction House. This will allow you to sell current player cards, or bid on the player cards you want to help boost your team. However, this part of the game isn't available when you first get started in NBA 2K19. Here's how to unlock the auction house in NBA 2K19.
How to unlock the Auction House in NBA 2K19
So you've got an item to sell, or some 2K19 Virtual Currency to spend but can't get into the marketplace. First, you'll need to head to your MyTeam page on the NBA 2K19 game. Once you're there, go to the "Goals" tab on it. Tap on the RT or R2 button on your PS4/Xbox One game controller to get to the Single Game Goals area. That screen shows you everything you'll need to do to unlock the auction house.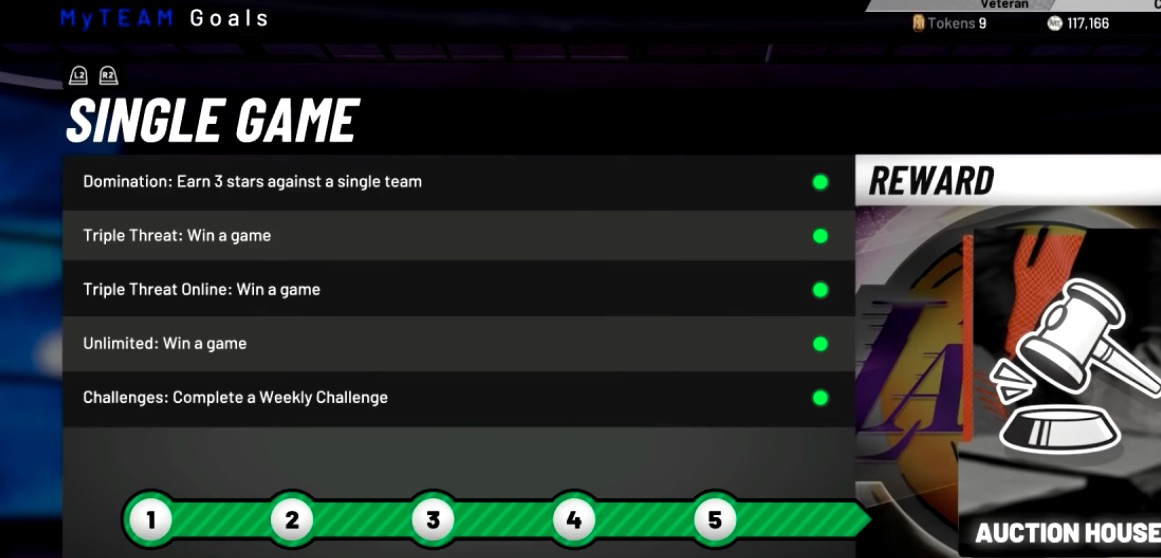 Here are the goals from the recent Single Game Goals screen:
Domination: Earn 3 stars against a single team
Triple Threat: win a game
Triple Threat Online: Complete a game
Unlimited: Complete a game
Challenges: Complete a Weekly Challenge
As you complete each of these Single Game Goals, the circle to the right of the goal should fill up (as seen above). One tip to keep in mind is for Weekly Challenges. When you go to that screen, you'll notice "Tutorial" as the first challenge there. Complete this challenge and then another Weekly Challenge to unlock that Single Game goal.
Once you've completed all of those goals, you'll have officially unlocked the Auction House in NBA 2K19 MyTeam mode. You'll find it on the MyTeam page under the Auctions tab. Now you can go there to sell or buy player cards and really take your MyTeam to the next level in NBA 2K19!