LeBron or MJ? In many basketball fans' minds, there is one "greatest of all time" player. Michael "Air" Jordan dazzled fans around the world for years and still continues to enjoy G.O.A.T. status in debates everywhere. That's due to his impressive skills in the game and a perfect 6-0 NBA Finals record with the Bulls. While his playing days in the NBA are over, his "Airness" is soaring to new heights with the latest NBA 2K19 Signature Series cards.
Five Michael Jordan cards in NBA 2K19 Signature Series
On Friday (May 3), NBA 2K19 revealed the hype video showcasing all-time basketball legend, Michael Jordan. Since the NBA Playoffs are in effect right now, it's only natural to honor one of the all-time playoff stars. There are now five new Jordan cards available through the game as seen in the video below. The latest cards are from Signature Series in the popular 2K19 MyTeam mode.
The new NBA 2K19 Michael Jordan cards include the best of them all, a Galaxy Opal Limited. In addition, there is a Galaxy Opal as well as the 98-rated Pink Diamond, 95-rated Diamond, and 92-rated Amethyst Jordan cards. Landing any of these would be a major score for an NBA 2K19 MyTeam roster.
How to get MJ cards in NBA 2K19
To try to obtain the new Michael Jordan Signature Series cards, gamers have to head to NBA 2K19 MyTeam Market. From there, it's possible to spend Virtual Currency (VC), or MT on packs. They can be purchased starting with one pack, and then moving up to a bundle of packs for a better deal.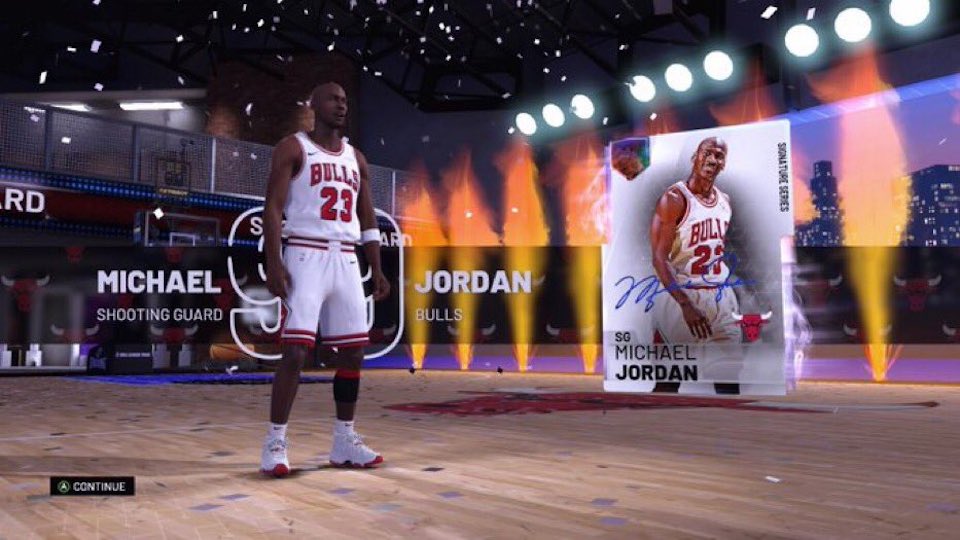 Some gamers may want to simply spend their bank on buying one of these Jordan cards at the Auction House. However, prices will run high as MJ is an-all time legend to have on one's roster. So, make sure you've got the bankroll to bid high or "buy now."
Of course, the only other option to use a version of Michael Jordan in the game is to head to Play Now and use either the "Classic" or "All-Time" Chicago Bulls team. Otherwise, it's a matter of grinding for currency and spending on packs or bidding for those impressive MJ cards.
Get more of the latest NBA 2K19 news here.