The landscape of the NBA shifted considerably over the past several months. The first of the major moves involved the Los Angeles Lakers finally getting Anthony Davis on their roster with LeBron James. Not long after, the NBA 2K20 cover reveal arrived with Davis front and center on two editions of the new game. While screenshots and video teases for the game have been popping up online, fans finally got their first NBA 2K20 gameplay trailer on Thursday.
NBA 2K20 gameplay trailer shows off teams' newest stars
The theme of the offseason, and the new video is familiar faces in new places. The newest NBA 2K20 gameplay trailer not only features the Lakers duo of LeBron and Davis but a number of other brand new team duos. Kawhi and Paul George are seen in Clippers uniforms together. Kyrie Irving drives through the air to the hoop wearing a Brooklyn Nets uniform. There's a shot of Malcolm Brogdon on the Pacers and D'Angelo Russell in a Warriors uniform.
A bus pulls into an arena and we see more of rookie Zion Williamson, followed by a shot of his New Orleans Pelicans teammate Lonzo Ball diving on the court. There's also a clip showing Russell Westbrook in his Houston Rockets jersey finishing an ally top dunk after a pass from James Harden.
The new NBA 2K20 gameplay trailer certainly brings the hype. As the song "Back Up" by The Siege plays, it offers a bit of something for most NBA fans. The footage even shows some of the impossible things one can do with the upcoming game. That includes using injured players on the court ahead of their official return.
Injured stars featured in new trailer
Stars Klay Thompson, Kevin Durant, and John Wall are among the injury. Two players may not set foot on an NBA court this season, but that won't stop gamers from testing them. One part of the trailer reveals KD in his Nets jersey after falling into the crowd during a play. In what appears to be a new addition, crowd members are shown putting hands out to help him up. We'll have to wait and see if Drake is sitting front row at a Raptors game.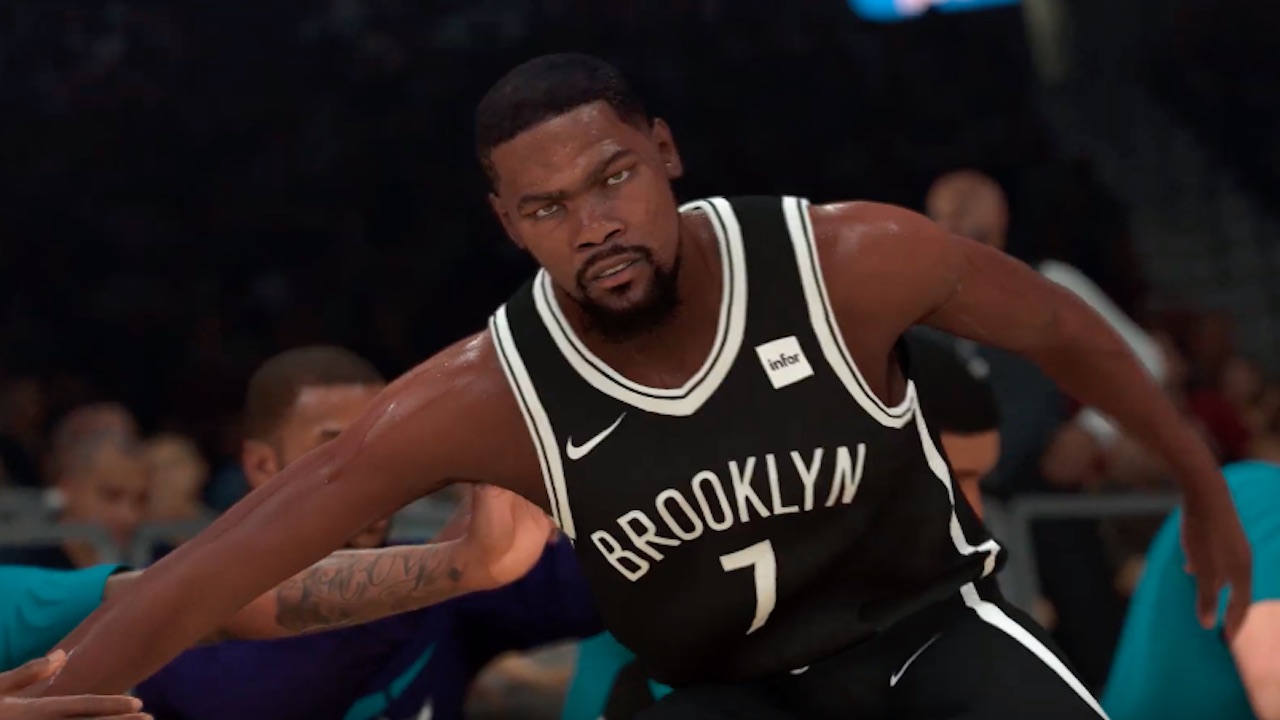 The upcoming 2K game has a lot of fans exited for the possibilities to simulate matchups before the new season. Examples include the Lakers vs. Clippers and Rockets vs. Nets battles to see which team comes out on top. Footage of Kemba Walker and Jayson Tatum together has fans ready to see what's possible with the new Celtics duo.
If the mere announcement of all these big trades and signings during the offseason didn't make fans want the game, the new gameplay trailer just might.
The brand new NBA 2K20 video game arrives on September 6, 2019 for PS4, Xbox One, Nintendo Switch, and PCs. See more details about 2K20 pre-order editions ahead of the game's release date.