While former NBA MVP Kevin Durant has been sidelined for the Brooklyn Nets this season, fans know his return will happen. Meanwhile, in honor of the multiple-time NBA Champion, new NBA 2K20 Kevin Durant Prime Series II packs have launched in MyTeam. They feature a number of new cards including the coveted Galaxy Opal KD, among other stars.
New NBA 2K20 Kevin Durant Prime Series II Packs details
A brand new hype video arrived on Thursday to launch the NBA 2K20 Kevin Durant Prime Series II packs and included player cards. As expected, KD headlines the packs with a superb new Galaxy Opal card to lead the way. Right behind him are two of his former teammates, though.
Former Oklahoma City Thunder All-Star Russell Westbrook has a 97 Pink Diamond in the mix, while the Golden State Warriors' Klay Thompson has a 98 PD card. There's also a 95 OVR card for the San Antonio Spurs' LaMarcus Aldridge.
While the Galaxy Opal KD isn't the Kobe Bryant EVO Tribute card that many fans seem to want, it's still an amazing card to add to a MyTeam roster. Having a Pink Diamond Klay is pretty nice too with his shooting abilities. Here's the complete list of available players in the new packs.
NBA 2K20 Kevin Durant Prime Series II available players:
Kevin Durant (Galaxy Opal)
Klay Thompson (Pink Diamond) 98 OVR
Russell Westbrook (Pink Diamond) 97 OVR
LaMarcus Aldridge (Diamond) 95 OVR
Reggie Jackson (Amethyst) 92 OVR
Jeff Green (Ruby) 89 OVR
Pack and box prices, KD auction listings
A single pack of five cards costs 7,500 VC or 10,500 MT. There is also a 10-pack box for 67,500 VC and a 20-pack box for 135,000 VC. Most of these cards are also selling at the Auctions area in MyTeam.
As expected that KD Galaxy Opal is commanding some high bids. We've seen the card reach over 600,000 MT as of this report on the PS4 version of the game. Make sure to have plenty to spend if you really want that card, or wait for prices to come down at some point.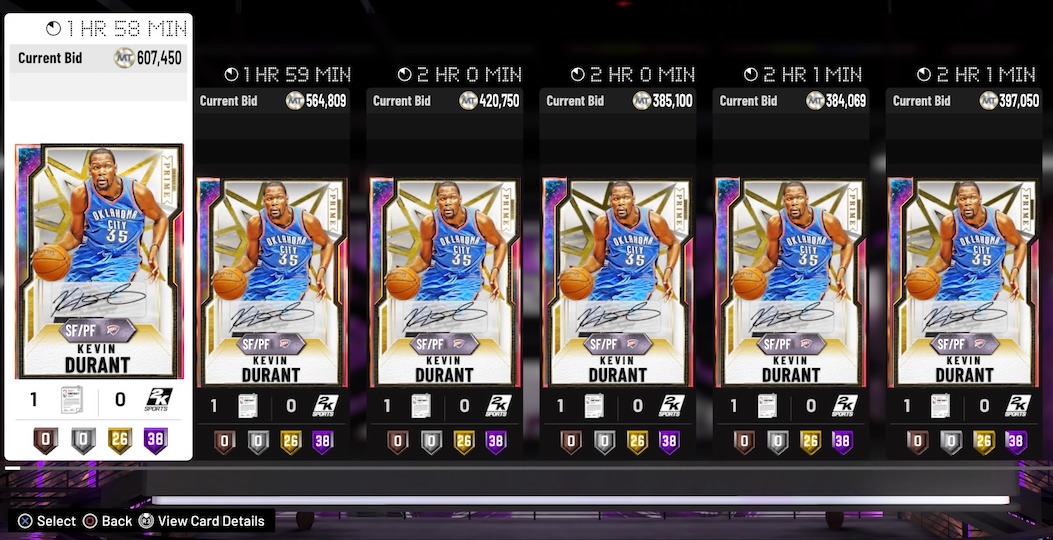 KD is the latest star to headline this series in NBA 2K20 MyTeam. Previous Prime Series pack releases featured Dwyane Wade, Tim Duncan, and Wilt Chamberlain, among other all-time stars.
Visit our NBA 2K news page for more details on MyTeam and other game updates.