A number of NBA players put in impressive performances lately including the Portland Trail Blazers' Damian Lillard and Philadelphia 76ers' Ben Simmons. On Tuesday, January 21, new NBA 2K20 MyTeam Moments cards arrived for Simmons and Lillard along with several other recent standouts. Here's the latest information on the new cards and where to get them for a limited time.
Lillard, Simmons headline new NBA 2K20 MyTeam Moments cards available
Monday's NBA schedule brought a number of games for Martin Luther King Day and several of those included some amazing performances. The Portland Trail Blazers' Damian Lillard had quite a night playing for 45 minutes in an overtime thriller against the Golden State Warriors. Dame would end up shooting 17-for-37 and make 11 threes as part of his 61 points.
Lillard also provided a clutch three in the extra session. Add in 10 boards and seven assists for what definitely qualifies for a new NBA 2K20 MyTeam Moments card. There's now a Pink Diamond available for the All-Star.
Fellow All-Star Ben Simmons also made NBA history with his latest triple-double. He tallied 34 points, 12 rebounds, and 12 assists, leading his team to victory over the Brooklyn Nets. However, Simmons also shot 80 percent and had five steals. He became the first player to record a 30-point triple-double along with five steals and 80 percent shooting in a game. That brings a new Simmons Diamond Moments card to the MyTeam mode.
Here's a look at all of the new limited-time Moments cards available:
Damian Lillard (Pink Diamond) 97 OVR
Brandon Ingram (Pink Diamond) 97 OVR
Donovan Mitchell (Diamond) 95 OVR
Ben Simmons (Diamond) 94 OVR – PG eligible
Marcus Smart (Diamond) 94 OVR
Domantas Sabonis (Amethyst) 92 OVR
Moments cards in packs, Auction listings
The new NBA 2K20 MyTeam Moments cards are available for a limited time in the Heat Check and League Moments packs. Based on NBA 2K MyTeam's tweet they'll no longer be available as of 12 p.m. Pacific Time (3 p.m. ET) on Thursday, January 23, 2020.
League Moments packs start as low as 2,812 VC or 3,750 MT for a Base Pack. There are also boxes available, with a 20-pack box the most expensive at 101,250 VC. Heat Check Base packs start at 3,750 VC or 4,500 MT. There are 10 and 20-pack boxes available with the most expensive at 135,000 VC.
In addition, the new Moments player items are available at the Auctions area. As of this report, the Brandon Ingram Pink Diamond is going for a range of 140,000 to 200,000 MT on the PS4 version of the game. Other cards are just hitting the mark including the Ben Simmons Diamond which has prices between 100,000 and over 300,000 MT.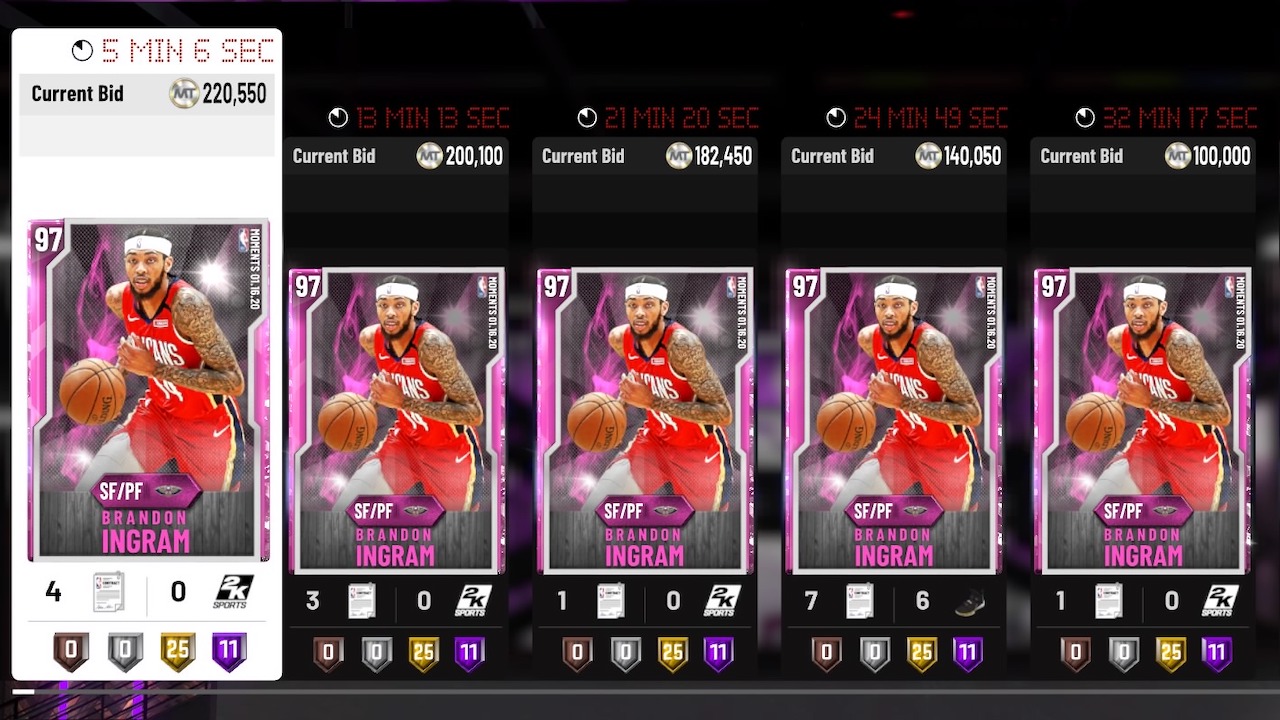 In case you missed it, check out yesterday's locker code which included a chance at a new Kemba Walker EVO card.
Visit our NBA 2K20 news page for more of the latest updates about the game.