Big news arrived from the NBA on Thursday night as Carmelo Anthony is joining the Portland Trail Blazers. Melo has been away from the league for over a year but finally will make his return. The good news for NBA 2K gamers is that he's now on the NBA 2K20 roster for the Portland Trail Blazers, giving an early look at him on the team, virtually.
NBA 2K20 roster update: New Big Three in Portland features Melo, CJ, Dame
The Portland Trail Blazers had been a team linked to Carmelo Anthony back when he was still suiting up for the New York Knicks. However, that fell through back then. Anthony eventually had stints with the Oklahoma City Thunder and then the Houston Rockets for just 10 games. However, after his time on the Rockets, there weren't any teams lining up to add the former All-Star forward.
However, with an injury to Zach Collins, the Portland Trail Blazers became interested. They'll sign Melo to a non-guaranteed contract and hope he can help improve the team's fortunes alongside guards CJ McCollum and Damian Lillard. A tweet video clip previews Melo in the NBA 2K20 roster update for the Blazers.
In terms of player ratings, Carmelo is a 76 overall for the Trail Blazers' NBA 2K20 roster. Some of his best attributes include an 87 Post Fade, 83 for Post Moves, 86 Ball Handling, and 85 Close Shot. Melo also has an "A" grade for his Inside Scoring, which is above the position average. Basically, he'll work well in the post, and that's what the Blazers are hoping for, with the occasional three-pointer knocked down.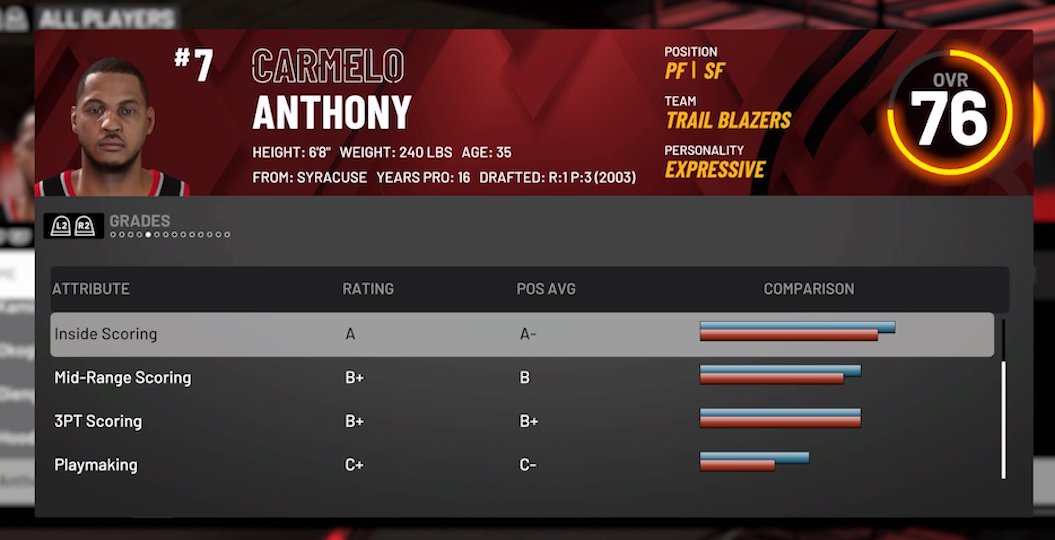 There are two other versions of Carmelo Anthony already built into the game. One of those is a 91 overall Melo with the classic 2007-08 Denver Nuggets team. The other Carmelo Anthony appears on the classic 2011-12 New York Knicks. That version has a 90 overall rating for the multiple-time All-Star and former scoring champion.
It should be interesting to see how Carmelo Anthony does as part of the Trail Blazers in the upcoming season. Until he makes his official NBA debut, gamers can check out Carmelo on the Blazers' NBA 2K20 roster using the Quick Play option from the main menu. It's always likely he'll pop up in some new NBA 2K MyTeam items along the way, so stay tuned.
See more of VGR's NBA 2K news here including MyTeam updates.