The NBA 2K20 Moments of the Week 6 players are officially here! On December 2, NBA 2K's MyTeam revealed a group full of some major star power based on recent performances. That includes the league's past two Most Valuable Players James Harden and Giannis Antetokounmpo, among others. Here's a look at who's available, where to find them, and the associated costs.
NBA 2K20 MyTeam Moments Week 6 players include Giannis, Harden
A Pink Diamond James Harden leads the way for the NBA 2K20 MyTeam Moments in Week 6 and rightfully so. That's because "The Beard" put up an impressive 60 points on the Hawks this past weekend in a 158-111 rout. It took Harden just three quarters to do it too. As of right now, he continues to lead the league in scoring, as he's ahead of the second-place player by more than eight points a game.
However, that second-place player is no slouch. It's the reigning NBA MVP Giannis Antetokoumpo. "The Greek Freak" picks up a Diamond card in the Moments collection this week. So does the Los Angeles Lakers' star and 2K cover star Anthony Davis as well as the Toronto Raptors' Pascal Siakam. With another 2K20 MOTW selection, Siakam continues his pace for a possible All-Star nod.
Here's a look at all of the new NBA 2K20 MyTeam Moments of the Week 6 players and their cards:
James Harden (Pink Diamond) 96 OVR
Giannis Antetokounmpo (Diamond) 95 OVR
Anthony Davis (Diamond) 95 OVR
Pascal Siakam (Diamond) 95 OVR
Buddy Hield (Amethyst) 92 OVR
Jonas Valanciunas (Amethyst) 91 OVR
T.J. Warren (Ruby) 89 OVR
Hassan Whiteside (Ruby) 88 OVR
Danuel House (Sapphire) 86 OVR
Jarrett Allen (Sapphire) 85 OVR
The Collection Reward for getting all 10 Moments of the Week 6 players is 100 Tokens for use in purchasing other players or items in NBA 2K20 MyTeam.
Where to get the new MOTW 6 players
Gamers can purchase League Moments packs or Heat Check packs for a chance to get a Moments player. League Moments packs start at 2,812 VC or 3,750 MT, while Heat Check packs start at 3,750 VC or 4,500 MT. There are also multi-pack boxes available.
In addition, these new MOTW 6 player cards are available at the Auctions area. Here's a look at the recent auction listings for the new James Harden card for an idea of what it might cost in terms of MT currency.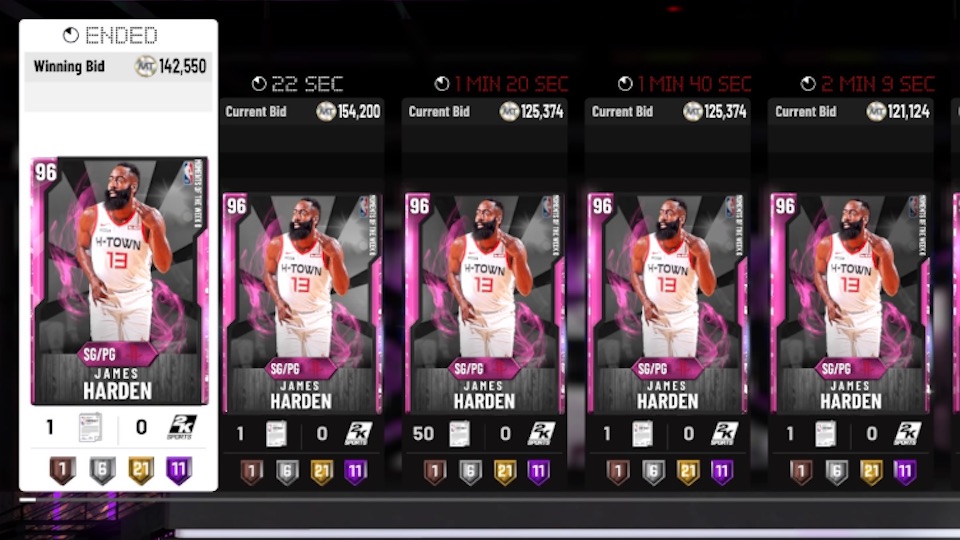 It should be interesting to see if that new Harden Pink Diamond becomes one of the most used player cards. Right now, the NBA 2K20 MyTeam Community Hub lists an 89 OVR Derrick Rose as the most-used PG card. As for SG, the 89 OVR Vince Carter is most-used for that position.
If you're a fan of NBA 2K's Neighborhood, check out our recent report on the new Winter theme.
Check out more of our NBA 2K20 news here including other MyTeam updates.