The newest packs in NBA 2K20 MyTeam feature Detroit Pistons champion and Hall of Fame guard Isiah Thomas. "Zeke" as he was known by many fans back in the day headlines the new NBA 2K20 Spotlight Series I packs just a day after we reported the limited-availability Super Packs. Those have now been replaced with the new Series I packs. Here's a look at which players have been included in the packs including Isiah's former backcourt mate and fellow Pistons champion Rip Hamilton.
NBA 2K20 MyTeam releases Isiah Thomas Spotlight Series I Packs to market
Isiah Thomas was one of the league's best point guards back in the 1980s through the mid-1990s. His run with the Detroit Pistons included heading up the "Bad Boys" squad that notoriously prevented Michael Jordan's Bulls from getting too far in the playoffs right away. Thomas achieved back-to-back NBA Championships with Detroit, thanks to a team that also featured Bill Laimbeer, Joe Dumars, and a guy named Dennis Rodman.
Thomas is now the headliner on the NBA 2K20 MyTeam's Spotlight Series I packs. He's joined by Joe Dumars in there, along with Richard "Rip" Hamilton, also a Pistons champion. Here's a look at the official promo video from NBA 2K20 MyTeam on Thursday, November 7.
What players are available in the Spotlight Series I packs?
The packs are now live at the NBA 2K20 MyTeam Pack Market. Here's a full list of the player cards currently available in Spotlight Series I:
Joe Dumars (Pink Diamond) 97 OVR
Dominique Wilkins (Diamond) 95 OVR
Giannis Antetokounmpo (Diamond) 94 OVR
Kevin McHale (Amethyst) 92 OVR
Richard Hamilton (Ruby) 89 OVR
Adrian Dantley (Ruby) 89 OVR
Mark Aguirre (Sapphire) 86 OVR
Horace Grant (Sapphire) 85 OVR
Kelly Tripucka (Emerald) 82 OVR
Vinnie Johnson (Emerald) 82 OVR
Sean Elliott (Emerald) 82 OVR
Rich Mahorn (Gold) 79 OVR
John Salley (Gold) 79 OVR
How to get the Spotlight Series I players
There are packs and boxes available at the MyTeam Market with varying prices in both Virtual Currency (VC) and MyTeam Tokens (MT). The Base packs sell for 3,000 VC or 3,750 MT, while a Standard Pack goes for 7,000 VC or 10,000 MT. A Deluxe Pack is 9,375 VC or 12,000 MT.
Meanwhile, there are three different types of boxes available. A 10-pack Standard Box is 63,000 VC, while a 10-pack Deluxe Box is 84,375 VC. The biggest of the bunch is the 20-pack Deluxe Box for 168,750 VC.
Additionally, gamers can head to the Auction area to place a bid or "buy now" for specific players they want to add. However, the better the card, the higher the price in NBA 2K20 MyTeam currency. For example, prices for the Dumars PD item are in the 100,000 to 200,000 MT range. However, it looks like Giannis Antetokounmpo may have the most expensive item early on. Here's a look at the latest bidding action for the reigning NBA MVP: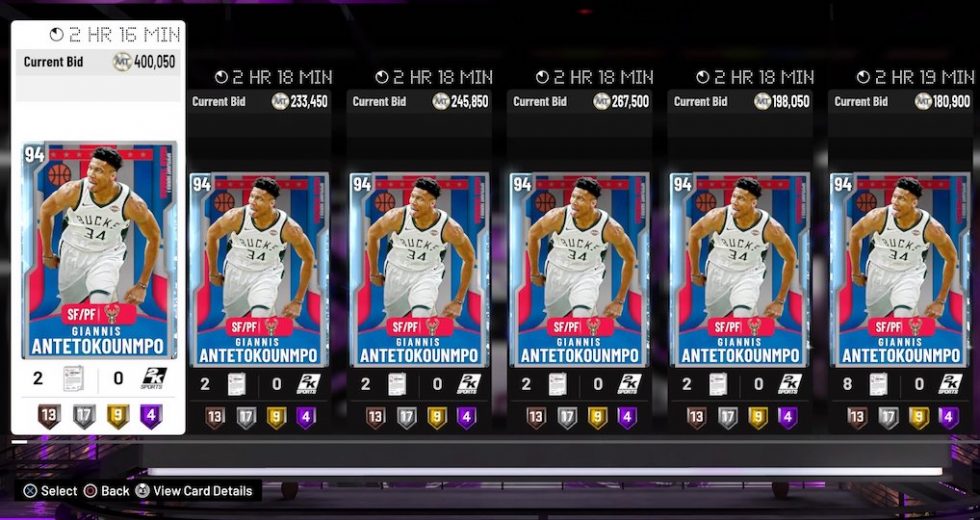 The latest Spotlight Series I Reward is a Pink Diamond Andre Drummond card. It's available through the new Isiah Thomas Spotlight challenges. That gives another powerful big man option for NBA 2K20 MyTeam lineups.
See more NBA 2K news here including other MyTeam and game updates. Learn more about the MyTeam mode here.