With the NBA All-Star events coming up, the popular 2K basketball game has made an NBA 2K20 ratings update for some of the participating players. Among the All-Stars getting boosts are rookie Zion Williamson and Damian Lillard. However, several All-Star participants have slid just a bit ahead of the big game in Chicago this weekend.
Zion, Lillard among NBA 2K20 ratings update All-Star player boosts
Rookie Zion Williamson finally arrived on the court several weeks ago. There were doubters ahead of this season who felt he might be a bust, but so far, the Pelicans rookie has been anything since. Through nine games in his rookie season, he's averaging respectable numbers including 21 points, 7.7 rebounds, and 2.3 assists per game.
After sitting out a game against the Pacers, Zion returned several days ago and scored a new career-high of 31 points. In addition, he had nine boards five assists to help his team defeat Portland. Keep in mind he's just 19 and has plenty more to show during his career.
For the NBA 2K20 ratings update, Zion got a nice boost of two points to 84 OVR, ahead of this Friday's Rising Stars game. Expect him to become a fixture in the NBA All-Star Game in future seasons, though. We wouldn't mind seeing him participating in that dunk contest either.
Joining Zion in terms of getting a two-point boost is Trail Blazers All-Star Damian Lillard. The man has been scoring in bunches this season. Big Game Dame's impressive performances over the weeks include 42-point and 51-point performances against Utah, as well as a 61-point game against the Warriors last month.
Lillard moves up by two points in NBA 2K20 to become a 94 OVR. Unfortunately, due to a groin injury, he is out of the All-Star lineup, but he certainly deserves the ratings boost.
Several other players got one-point boosts ahead of their upcoming All-Star Game participation. The Denver Nuggets' Nikola Jokic is now a 91 overall, while the Toronto Raptors' Pascal Siakam is up to an 89 OVR in the game.
Kemba, Embiid slide in the latest update
Two All-Star players fell slightly ahead of their appearance this coming Sunday. The Boston Celtics' Kemba Walker and Philadelphia 76ers' Joel Embiid both dropped by a point. Walker is now an 87, while Embiid has fallen to 90 overall in the NBA 2K20 ratings update.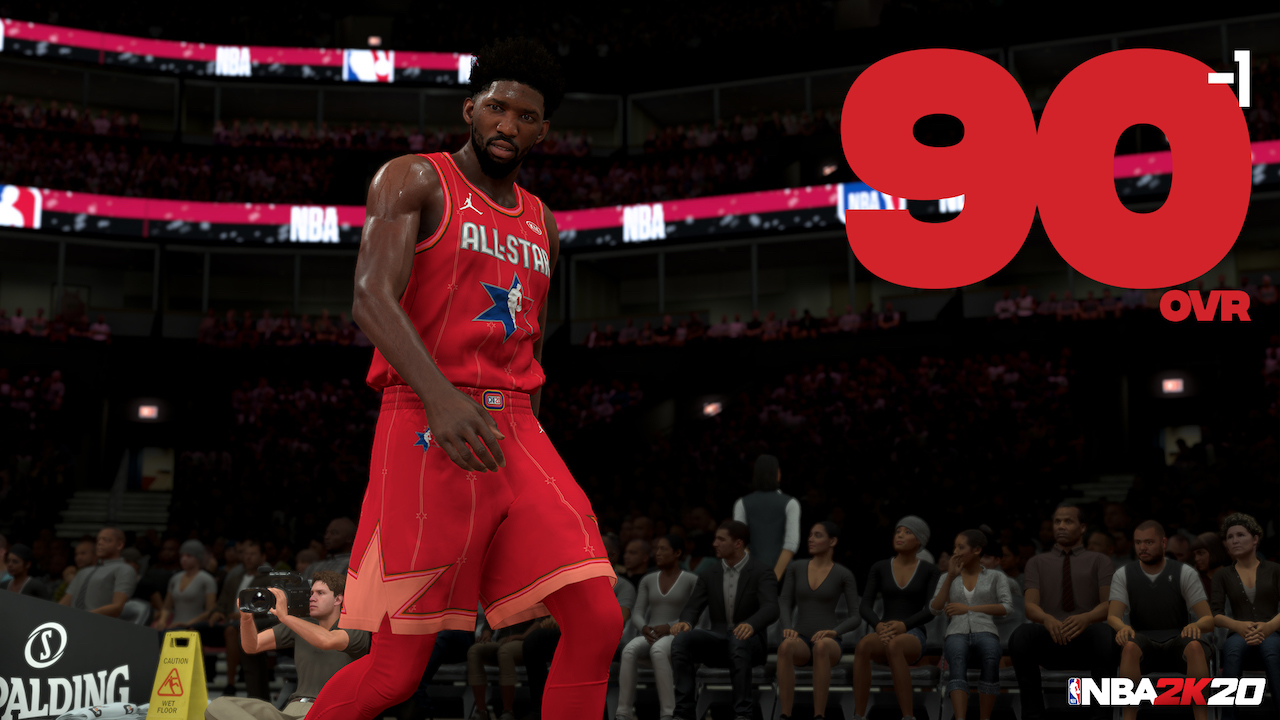 Both players are still NBA All-Stars but have had some shaky performances. Earlier this month, Walker was inactive for a three-game stretch. Since his return, he scored more than 20 points in just one game. Celtics fans are hoping he can bounce back with some of those bigger games he's had in his career.
Embiid was mentioned in "trade rumors," but for next season. The speculation from an ESPN NBA insider was that teams are already preparing for the possibility of the Sixers putting Embiid up for trade. Meanwhile, Embiid himself is frustrated with his level of play in Philly, hence the recent ratings drop.
In terms of ratings adjustments, the gaming community appears to be in favor of NBA 2K20 giving Russell Westbrook a well-deserved boost to a higher OVR. If he keeps up his recent performances, it seems like only a matter of time.
Update (2/14/20): NBA 2K released a complete ratings update list for all players at their Facebook post here.
Visit our NBA 2K news page to see more of the latest about the 2K basketball game.