With NBA 2K's MyTeam, gamers are able to build their ultimate team of star players through various cards acquired in the mode. On Friday (Aug. 21), a brand new NBA 2K21 MyTeam trailer arrived online to show off the popular mode. In addition, 2K released a Courtside Report giving details dropped for what's to come with the mode. That will include several new components and game modes which we highlighted below, along with MyTeam Carryover.
NBA 2K21 MyTeam trailer arrives online
With the NBA 2K21 MyTeam trailer, we get a look at in-game highlights featuring star players of the past, present, and future. With MyTeam, gamers can put together unique lineups, teaming up players that never even played together, to build the best possible roster for competition.
We see next-gen cover star Zion Williamson teaming up with current-gen cover star Damian Lillard in unique red and black jerseys. We see players in team jerseys they've never worn in the career, such as Russell Westbrook and Kevin Garnett in Bucks green. Vince Carter is in a Lakers jersey. Devin Booker appears wearing a Toronto Raptors jersey, while the late Kobe Bryant is in a Sixers jersey near the end of the trailer.
In addition to those visuals, various words flash on the screen to talk about what's featured in the mode such as Domination, Limited, and Seasons. The latter two are brand new for the game. See more details below.
NBA 2K introduces Seasons and Limited mode
Seasons is a new concept with MyTeam bringing unique objectives and prize updates. Based on 2K's details, Seasons will last approximately six weeks each and bring different goals with them as well as rewards. They reveal that the first Season's prize for completing Seasonal goals will be a Pink Diamond Stephen Curry card. They also mention Seasons will be free for everyone. That means no paying to play or get in.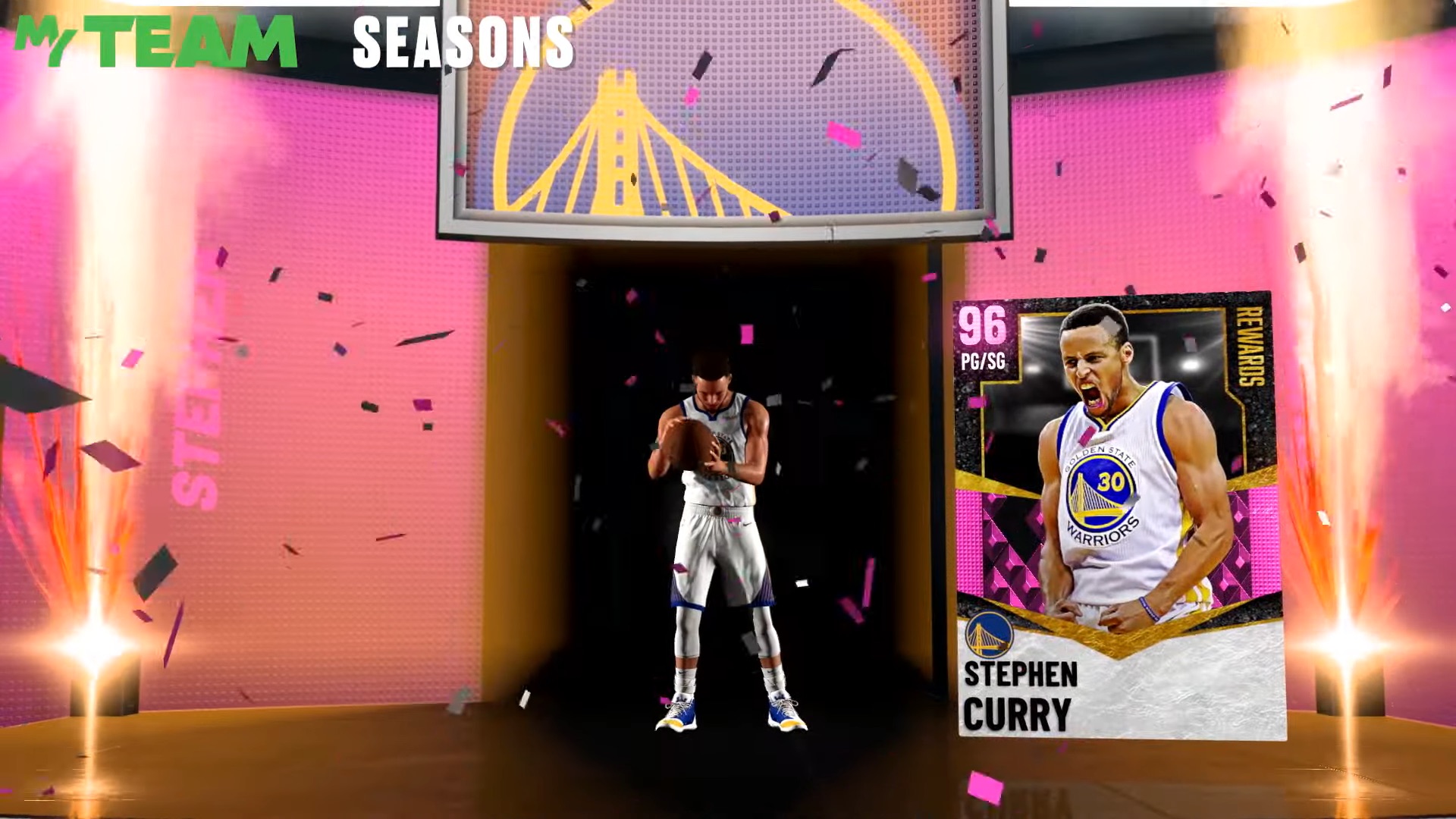 NBA 2K21 MyTeam Limited is also a new concept in the mode. This one only runs on Friday, Saturday, Sunday and brings different rules each time. It's a 5-v-5 multiplayer mode where you'll be competing with other MyTeam players.
The reason its called Limited is they'll have a different lineup restriction for each week of the game mode. Could that mean only players from certain divisions, or restrictions on certain types of cards? It could make for some interesting competition.
With each win gamers get in MyTeam Limited they also get a prize. That prize is one they can keep, or decide to try in for the choice of one of two mystery prizes. That could be the Championship Ring, or something else. It could end up being worse than the original prize you won too.
They also mention that if you find and collect the Championship Ring each weekend during Limited, they can be traded in for a special card that will make other gamers envious.
More details about Limited, Seasons, and everything else that's new in the mode are available at 2K's Courtside Report.
2K confirms MyTeam Carryover for next-gen
There was also some great news in the Courtside Report when it comes to NBA 2K21 MyTeam progress. Gamers will be able to use the items they earned on PlayStation 4 or Xbox One on the next-generation consoles and game. So that means MyTeam items and progress become available on the PS5 or Xbox Series X consoles if gamers upgrade to those with the NBA 2K21 game.
The 2K notes refer to it as MyTeam Carryover. With the carryover, gamers can even go back and forth playing the game on the current-gen and next-gen consoles, while still being able to use their MyTeam items and progressing. So that means PS5 to PS4 or Xbox Series X to Xbox One (and vice-versa). It apparently will not work from PlayStation to Xbox, and needs to be on the same account.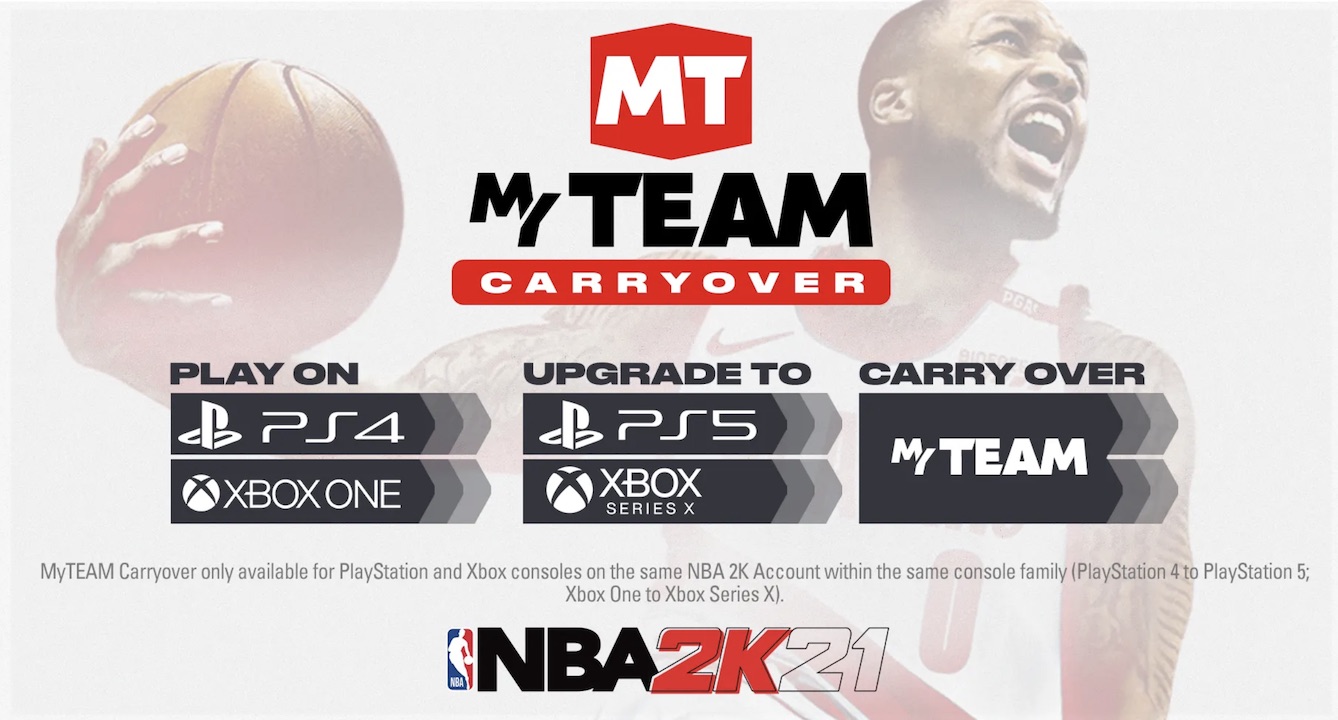 They remind gamers that by pre-ordering the Mamba Forever Edition now, it includes a free copy of the next-gen NBA 2K21 game. Otherwise, gamers who buy the current-gen edition (with Lillard on the cover) will have to make an additional purchase to get the next-gen game. It brings a cost of $69.99 for the next-gen version with Zion on the cover.
Visit our NBA 2K news page for more of the latest game updates.