With NBA 2K21 Virtual Currency, gamers can use it in various modes of the game. For example, it can be used in MyTeam to buy various packs or offers. In the MyCareer mode, gamers can use it to boost their MyPlayer's attributes or buy additional items. That said, it isn't something that is given away so easily, as it either carries a cost of time or real money. Here's a guide for some ways of how you can get more VC in NBA 2K21.
Play MyCareer, Park, & MyLeague for VC
The MyTeam mode rarely offers VC, but it's possible from time to time. It could be part of Daily Rewards or Progress Rewards. You may even find it in the Vault or from using a Locker Code for a prize. That said, playing games or events in MyCareer and Park can often result in adding quite a bit of MT and VC to your account.
Progressing through MyCareer mode may be one of the best options to rack up VC in 2K21. You'll earn more as you get better stats in the games you participate in. If you skip the story and go straight to the NBA, you get to choose your NBA team. You'll get 500 VC just for making that choice.
MyCareer mode lets you choose an agent. This year's options are Archie Baldwin or Harper Dell. You'll ultimately get VC based on which agent you choose as they hook you up with 2K21 brand endorsement deals such as shoes or clothing.
Each game your MyPlayer plays for the NBA (that you participate in without Sim) will earn VC. Then there's the whole Park and Neighborhood which have a slew of ways to get VC. Here's one Daily Bonus which brings 2,000 VC for achieving 10 field goals. Playing in online pick-up games at The Rec or outdoors can also rack up a nice bit of Virtual Currency.
NBA 2K21 MyLeague/GM mode can bring users a VC for simulating and watching games, as it has done so in the past. You'll be credited based on how much of the game you watch on-screen, so keep that in mind if you decide to "Sim to End." You'll build VC up as your team progresses.
It's important to note that in a 2K support post, they indicate you must be connected to the internet for VC to accrue.
Watch 2KTV for trivia and poll questions
One of the easiest methods for getting the NBA 2K21 Virtual Currency is by watching NBA 2KTV episodes. These will typically appear while you're on loading screens for a game, such as a Quick Play Now matchup.
The first week's episode upon game launch features cover star, Damian Lillard. So some of the questions focus on aspects of his career including All-Star and playoff appearances.
As the episode plays on your screen, a different question will pop up throughout the video. Each question typically has four multiple-choice answers. Use your controller to choose one.
If it's a trivia question, you need to answer correctly to get a prize. If it's a survey, any answer will work. Prizes could be things like gear, Tokens, or MT, but many times it is 100 VC or more for getting the answer.
Buy NBA 2K21 Virtual Currency
Last but not least is the costly method of getting NBA 2K21 Virtual Currency. You can buy it right inside the NBA 2K21 game. As shown below, it costs $1.99 at the start of the season to buy 5,000 VC, and the prices go up from there.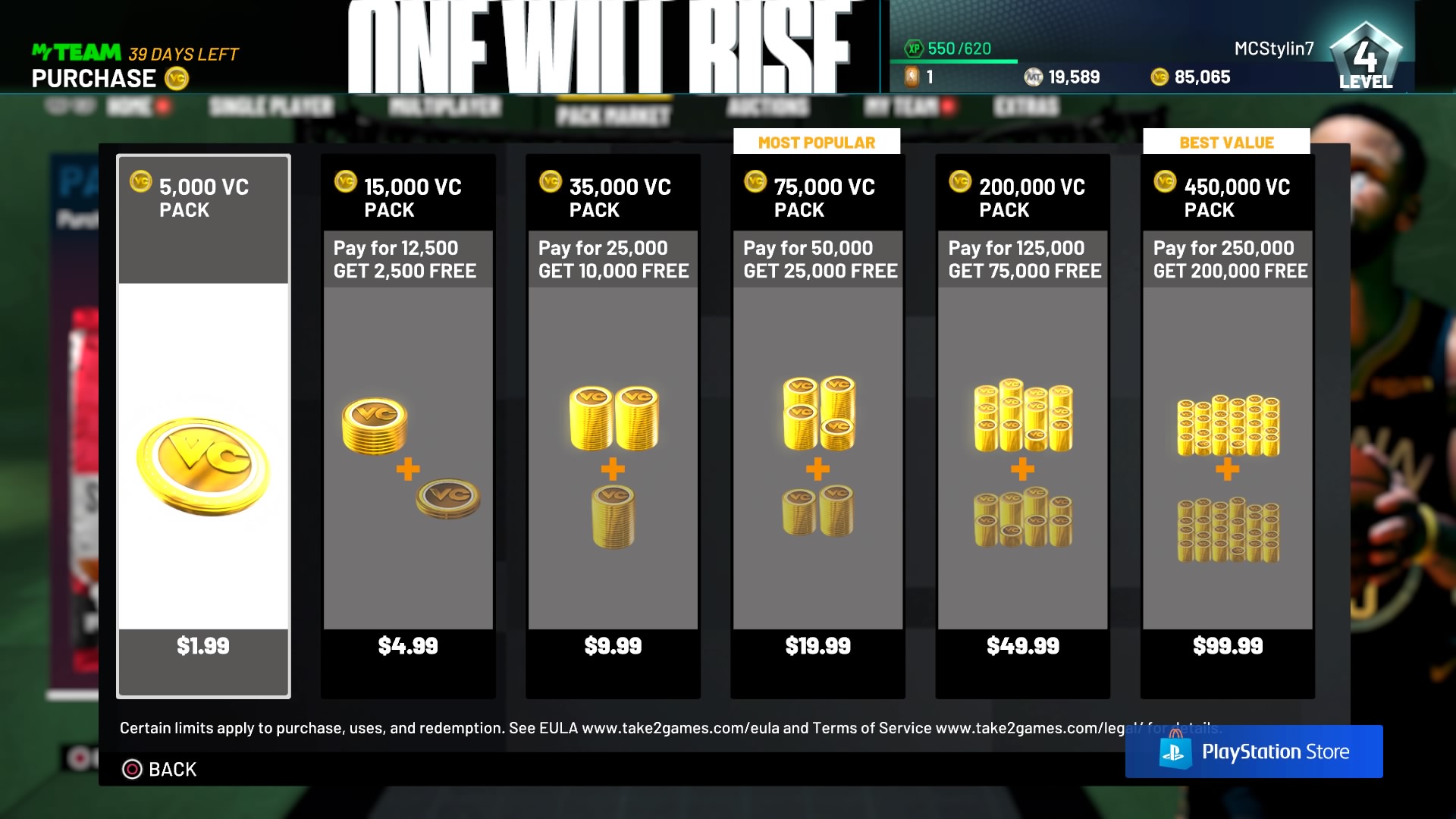 Most people would prefer to stay away from this method. Still, if you really need the VC, this probably isn't so bad to save some time and use the currency.
Visit our NBA 2K page here to get more tips and how-to guides for the game.