With NBA 2K22 Locker Codes, gamers are able to get all sorts of freebies for use in the basketball simulation game. These can include items like Tokens, MT, shoes, packs, or player cards. They're made available quite often, giving plenty of rewards throughout the 2K22 game's run. In this guide, learn how to put in Locker Codes in NBA 2K22 and where to get them.
What are Locker Codes for in NBA 2k22?
In the NBA 2K video games, there are special codes that gamers can get which are combinations of numbers and letters. These codes unlock special rewards in 2K's MyTeam mode such as high-rated player cards, MyTeam packs, booster cards, or the MT and Tokens currencies.
Sometimes Locker Codes arrive on a first come first serve basis. For example, when NBA 2K22 launched they were giving out rapid-fire codes to the first 10 or 20 to use them. Other times, they are given on a time-limited basis. These codes typically last for one week before expiration.
Where do you get them in the game?
Locker Codes are regularly released in several places. The best place to keep an eye on is the @NBA2K_MyTeam Twitter account. They regularly release new codes on their account, usually as part of new pack releases or other promotions.
Below is an example of a free Locker Code 2K gave out on Twitter on the game's release date with NBA 2K22 Season 1 Call to Ball.
Additionally, sometimes free codes are given out during televised NBA games. This took place during the late part of the 2020-21 NBA season and in specific playoff games on ESPN.
Other places to keep an eye out for the Locker Codes are Ronnie 2K's and NBA 2K influencers' social media accounts. During NBA 2K21, several influencers who share 2K content online were giving out codes to gamers for different rewards.
How do you put in NBA 2K22 Locker Codes?
So where and how do you put in NBA 2K22 Locker Codes? Well, the area for entry of the codes has changed from previous versions of the game. It used to be located in the Settings/Extras area of MyTeam.
However, the new place to enter 2K22 Locker Codes is the Community Hub screen. You get to this from the MyTeam main menu, by going to the lower right corner where it mentions Community Hub.
Once there, navigate to the lower-left corner of the screen (see below) to choose "Locker Code."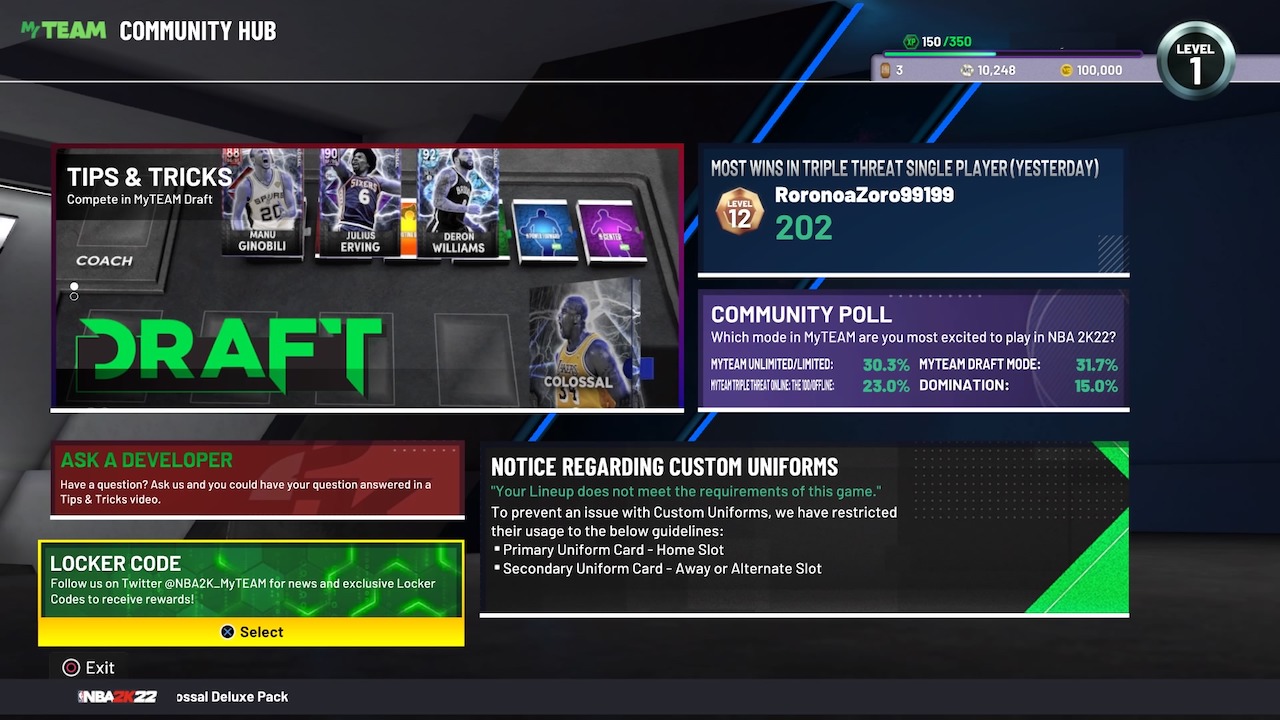 You'll get a pop-up screen like the one shown below. Enter the Locker Code with dashes in the box, using your game controller or keyboard on PCs.
The codes are usually not case-sensitive. However, they won't work without including dashes as shown below.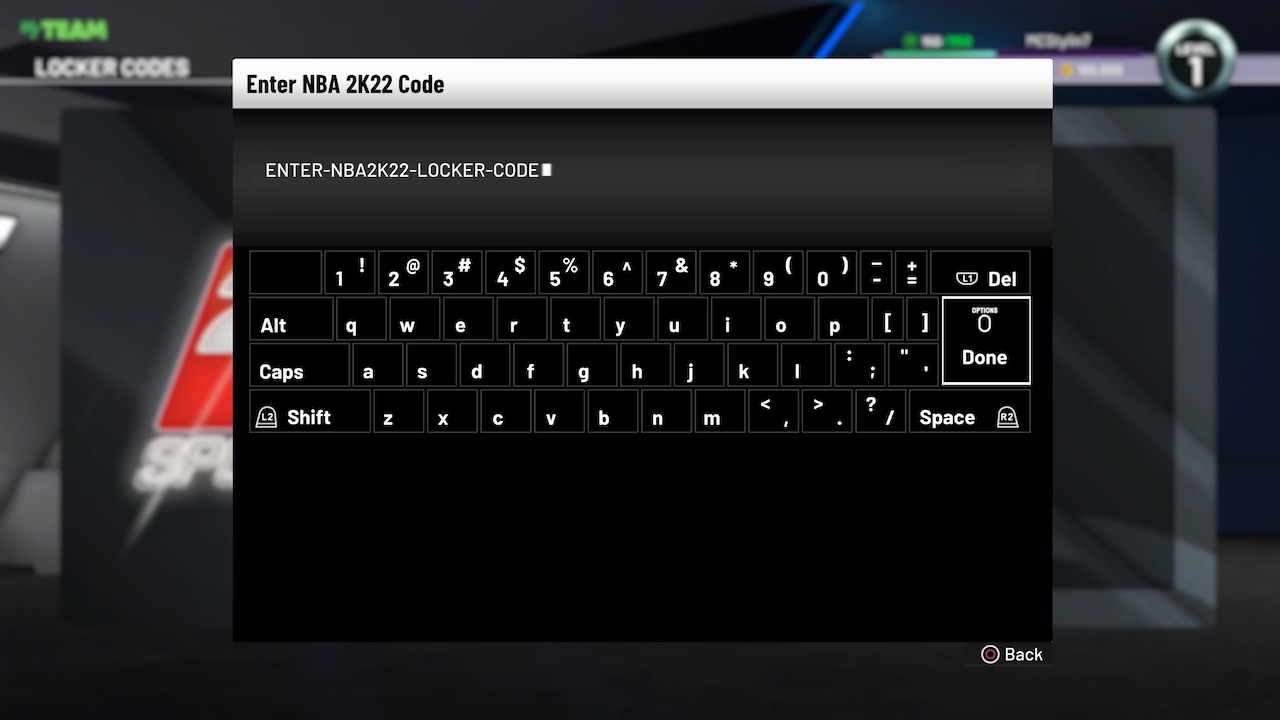 Alternately, it's possible to enter Locker Codes in the MyNBA 2K22 mobile app. As of this report, the mobile app has not officially arrived for iOS and Android devices. However, you can check 2K's page here for when the app is available.
For more how-to guides and news updates, visit VGR's NBA 2K page here.