Fans looking for NBA 2K22 MyTeam Evolution cards are in luck, as the latest promotion in the game's popular mode has many. On New Year's Day, 2K22 released new EVO cards featuring stars such as Shaquille O'Neal, Zion Williamson, and Luka Doncic. With the New Year's Resolution packs, there are 14 new EVO cards available. Here are more details about which players are available and how the EVO cards work.
New Year's Resolution packs feature NBA 2K22 MyTeam Evolution cards
Recently, VGR reported on the New Year's Resolution packs with cover stars Luka Doncic and Zion Williamson teased on 2K's MyTeam. Both players were shown as Galaxy Opals based on their 97 overall ratings and card art. Now it's been revealed they are two of the 14 new NBA 2K22 MyTeam Evolution cards in the release.
Three of the players in this release get NYR cards but also have NBA 75th Anniversary cards. They are Shaquille O'Neal, Russell Westbrook, and Dwyane Wade. Other cards in the release include a Pink Diamond Kevin Love, Amethyst Kyle Kuzma, and Diamond Carlos Boozer.
The NBA 2K22 MyTeam Twitter revealed a trailer to show off the new packs and player cards below. Check it out, and our list of all available players after the video clip.
Full list of EVO player cards in packs:
Zion Williamson – 97 Galaxy Opal
Luka Doncic – 97 Galaxy Opal
Kevin Love – 95 Pink Diamond
Dwyane Wade – 95 Pink Diamond (NYR & NBA 75)
Shaquille O'Neal – 95 Pink Diamond (NYR & NBA 75)
Russell Westbrook – 94 Diamond (NYR & NBA 75)
Carlos Boozer – 93 Diamond
Joe Caldwell – 92 Diamond
Scottie Barnes – 91 Amethyst
Buddy Hield – Buddy Hield – 91 Amethyst
Kyle Kuzma – 90 Amethyst
Shaun Livingston -89 Ruby
Justise Winslow – 89 Ruby
Steve Kerr – 88 Ruby
Deluxe packs are currently in the Market for 15,000 Virtual Currency or 21,000 MT. Regular base packs are 11,250 VC or 15,750 MT, while 10-pack boxes are 135,000 VC.
Check out the full release here at 2KDB.net to see all of the player cards attributes, badges, and more.
How do the EVO cards work in the game?
NBA 2K22 MyTeam Evolution cards, also referred to as EVO cards, are exclusive to the mode. These are dynamic player items that allow gamers to upgrade them in the game.
The EVO cards feature specific stats that gamers must achieve with that player card in games across MyTeam mode. This typically means achieving a certain amount of points, rebounds, assists, steals, three-pointers, and/or blocks with a player.
You can go to the MyTeam tab in the mode and then scroll down to "Card Evolution" to see any EVO cards you have that can be evolved. That screen will reveal any specific requirements to upgrade cards.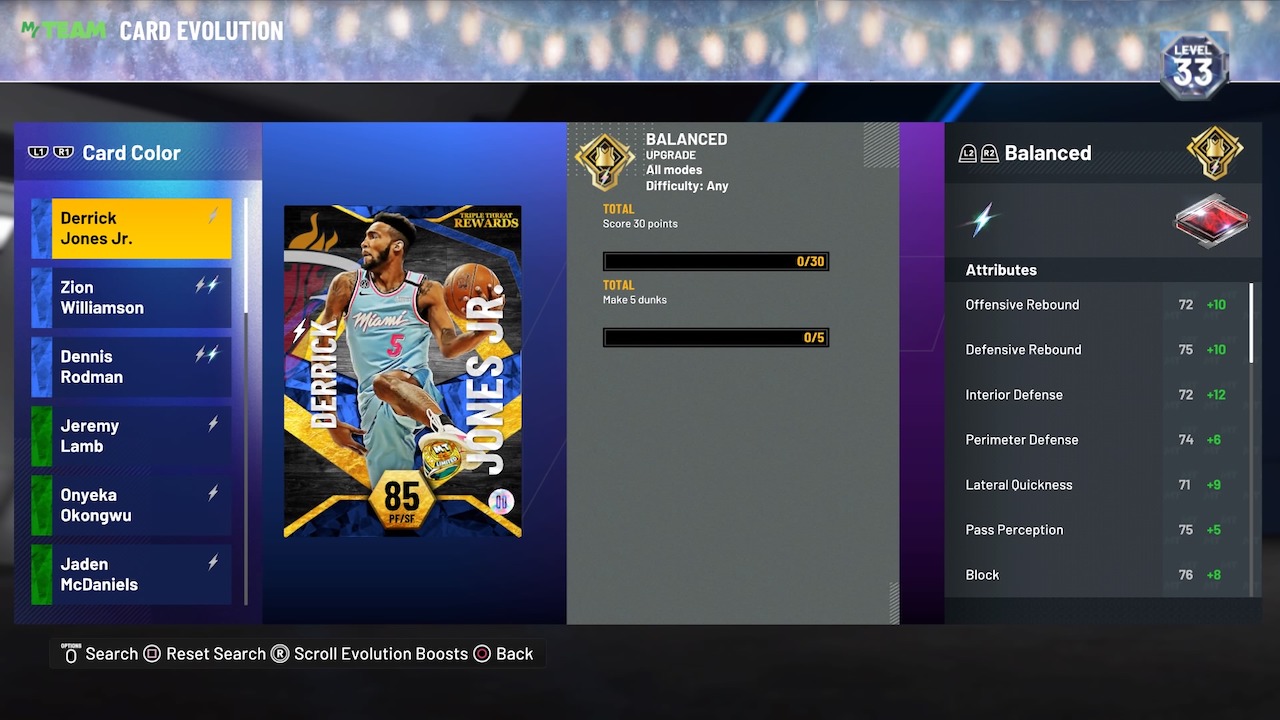 Once the goals are reached, the player item moves to a higher level item, giving gamers a nice upgrade in their lineups. Typically, the card will move up a tier in terms of color. So for example, that Pink Diamond Shaq in New Year's Resolution likely upgrades to a Galaxy Opal item.
There were several Evolution cards available in the game ahead of this release, but these become the best of the best. 2K also released the Locker Code below, for gamers to potentially acquire one of the new packs.
As of this report, there is less than two weeks left for MyTeam Season 3: Iced Out. With the New Year coming
Visit VGR's NBA 2K page to get more updates on 2K's basketball game.