NBA 2K22 has arrived and with it comes all the popular modes including MyCareer, Franchise, and MyTeam. With the MyTeam mode, gamers are able to assemble squads consisting of various players. These are acquired in many ways, including bidding or buying at the Auction House. So, one of the first steps with the game is how to unlock the auction house in NBA 2K22 MyTeam. Here's how to get that done so you'll be able to acquire cards to help your MyTeam.
What is the Auction House for in NBA 2K22 MyTeam?
At the Auction House in NBA 2K22 MyTeam, gamers can buy and sell their various items for the mode. That includes player cards that are able to be bought and sold. It also includes consumables, such as shoes, contracts, booster items, jerseys, and arena cards.
Items are bought and sold using the NBA 2K22 MT currency. Keep in mind, not all items will be auctionable or able to be sold. However, the cards obtained through packs generally are auctionable and sellable.
So, having the Auction House unlocked is kind of a big deal if you want to start buying and selling items to improve your roster.
How do you unlock the Auction House?
When first entering into the NBA 2K22 MyTeam mode, the Auction House will be locked for everyone. You'll also get a message saying you need to complete Season Agendas to unlock it, but you won't see it listed under that area. Instead, it's in the Lifetime Agendas/Collector Level area.
There's a very easy way to unlock it: Simply obtain 30 player cards for your MyTeam collection.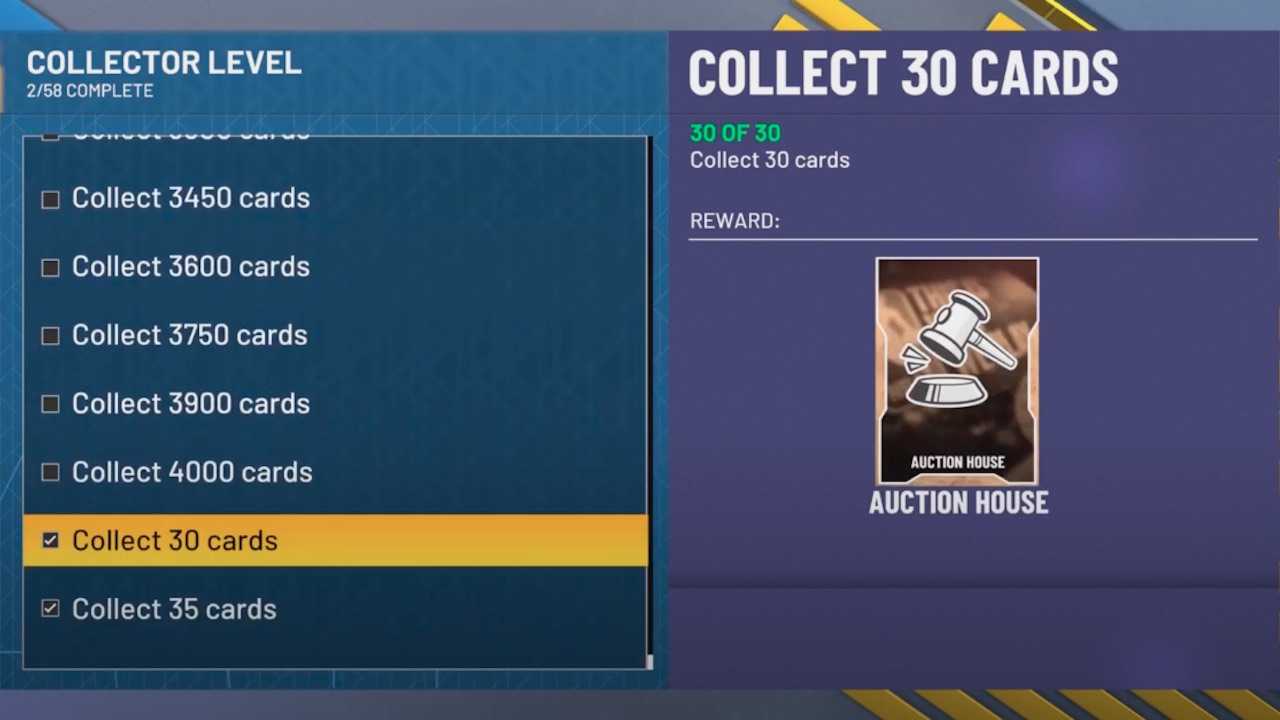 Customers who got the 75th Anniversary Edition will have no problem when it comes to unlocking the NBA 2K22 Auction House. That's because it included multiple player cards as bonus content for the game. So opening all the items in your Packs area should unlock the Auction House.
For those who have other editions, you're probably going to need to acquire more cards for your collection. From the start of most Seasons in NBA 2K22 MyTeam mode, they'll give a free player card as a reward. For 2K22 MyTeam Season 1, that's a Kobe Bryant card at Level 0. You'll get this in the Season Agendas/Rewards area of the mode.
Other ways to obtain cards in NBA 2K22
There are many ways to get more cards for your 30 required. We recommend using free 2K22 Locker Codes that are available as these may give player cards or packs. Completing Season Agendas may help gain rewards such as player cards, packs, or Tokens.
Also, playing the Triple Threat or Domination parts of the game will earn MT, Tokens, and player cards along the way. Tokens may be the way to go, as you can use these at the Tokens Rewards market to buy player cards.
Lastly, if you don't mind spending real money, consider buying Virtual Currency (VC) and using that to buy packs. Keep in mind, most packs only contain one player card, while some have a chance at a second.
For fans of NBA 2K22 MyTeam who play the game often, getting 30 cards by grinding should be no problem. So give it a short bit of time, and the Auction House will soon be unlocked!
Visit our NBA 2K page to see more guides and stories about the basketball game.