Announced by Respawn late last week, the Apex Legends Evolution Collection event is now live, featuring a new Town Takeover, new cosmetics, and more. The headline feature of the event, of course, is Big Maude; a town takeover for Rampart which can be found in World's Edge where players can purchase special weapons.
The Apex Legends Evolution Collection Event
Each Apex Legends Collection Event tends to focus on one or other Legend, and this time, the spotlight is on Rampart. Not only does she get a themed Town Takeover, but players can also get a new Heirloom for her. (If they manage to collect all of the event cosmetics, that is.) The new addition to World's Edge is "Big Maude," a hulking land-crawler tank which can now be found squatting near Lava City. A paintball course has been set up in front of the tank, which contains special vending machines. These machines allow players to spend resources in order to purchase; "Custom Modded Paintball Weapons."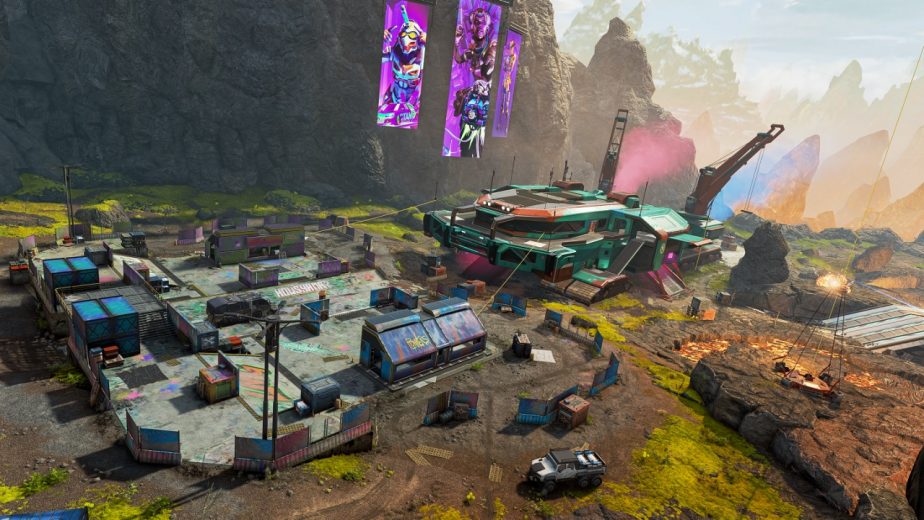 In Arenas, Rampart's Takeover extends into the core mechanics; between rounds, Rampart will offer players special discounts on certain modded items. Of course, as a Collection Event, this event features plenty of core mechanics which should be very familiar to Apex Legends players by now. Twenty-four event cosmetics, for example, can be acquired via event packs (and via the store). Players who collect the complete set will unlock Rampart's new "Problem Solver" Heirloom.
The Apex Legends Evolution Collection Event also features a special prize track. This track allows players to earn points by completing daily challenges. Up to 1,000 points can be earned per day, and 5,000 points are needed to complete the track. As players earn points, they will unlock Apex Packs and bonus cosmetic prizes. Note that these cosmetics aren't counted towards the twenty-four needed to unlock Rampart's Heirloom.