Microsoft is hard at work on the Xbox Scarlett, but it turns out that the company is also innovating new controllers as well. Recently, the console giant published a patent for detachable controllers for mobile gamers. If you have been in search of a better way to play games on your smartphone or tablet, you will be excited by this development.
What the Microsoft Patent Tells Us About Detachable Controllers
The patent, published on July 9, 2019, is titled "Charging device for removable input modules." But it appears that the company has been working on this project for quite some time. Microsoft actually filed the patent clear back in 2017.
Below, you can view images from the document: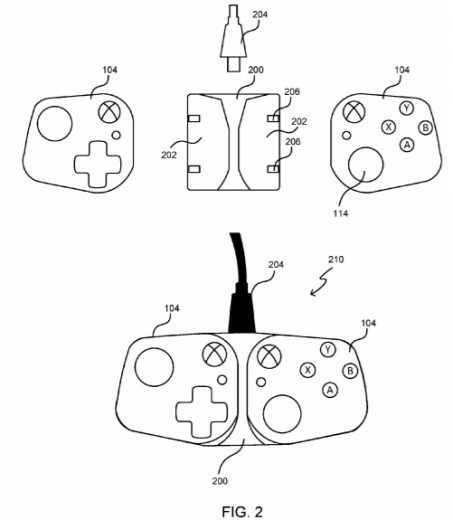 So to understand exactly what we are looking at here, we can refer to the abstract. According to the abstract, "A charging device for one or more input modules for a touch-screen device is described. The charging device comprises a charging mechanism in portions which are shaped to receive an input module. The charging mechanism comprises a power input and a power output. The power input is configured to receive power from an external power source and the power input is configured to provide power to one or more input modules which are attached to the charging device."
It should be possible to use these types of detachable controllers with a wide variety of mobile devices. These include tablets, smart phones, portable game consoles, and so forth.
Even those with touch screens should be compatible. As the patent explains, "The inputs are mapped to software running on the touch-screen computing device and where the touch-screen device is a peripheral (i.e. a touch-screen peripheral device) for a computing device (e.g. a touch-sensitive display for a desktop computer), the inputs are mapped to software running on that computing device."
Users will have options in terms of how to attach the controller to the device. So either they can physically connect the controller to the device, or they may do so wirelessly. But either way, the design of the controller should prevent it from blocking the screen, allowing for a game experience which is comfortable, ergonomic and visually rich.
As it appears that Microsoft has been involved in this detachable controllers project for at least a couple of years, development may already be significantly underway. Hopefully that means that we will learn more about it soon. Look for updates in our Xbox news feed.