While professional wrestling fans are still waiting for the game's release, a new WWE 2K19 gameplay trailer is now available. It delivers a montage of WWE superstars from the game including past and present stars, as well as some interesting match teases. There's even a look at a crazy scene involving "The Viper" Randy Orton that happened on SmackDown Live last year.
Over the past several weeks, Rusev, Lana, and other superstars revealed the WWE 2K19 roster superstars. They include the best in the business and some of the biggest legends of all time. Many of them appear in the brand new WWE 2K19 gameplay trailer such as Ted "The Million Dollar Man" Dibiase, Stone Cold Steve Austin, and The Undertaker.
WWE 2K19 Gameplay to Include Key Moments, Matches
"The Phenomenal One" is the latest trailer from 2K and makes a few Bray Wyatt, Randy Orton, or Matt Hardy moments and matches prominent from the get-go. For example, fans see the Hardy ranch at night which was the venue for Matt's "Ultimate Deletion Match" against Bray Wyatt. The match aired on WWE's Raw program and included the two stars battling it out all over the land and inside a huge barn. Everything from a lawnmower, to a canoe, and paddles came into play.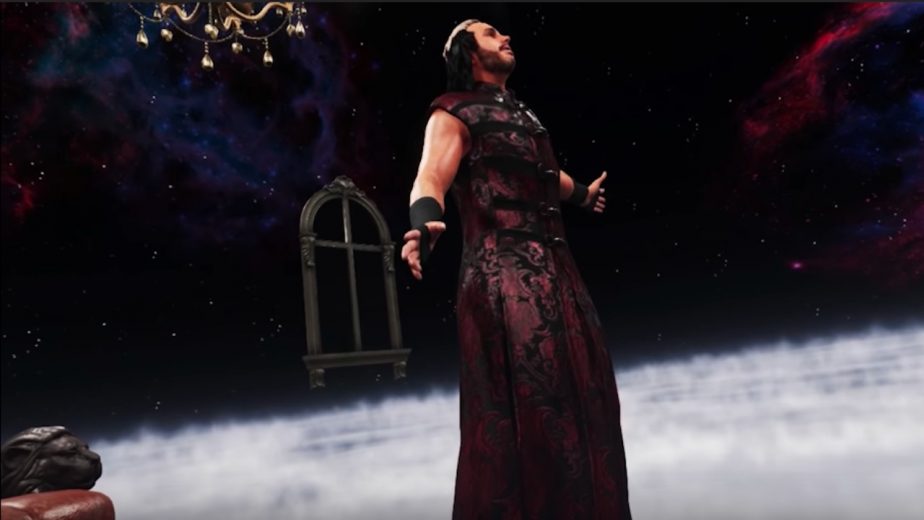 In addition to that, the trailer shows a key moment in the feud involving Randy Orton and Bray Wyatt. During last year's "mind games" between the two, Orton set fire to Wyatt's shed which housed the remains of Bray's deceased "Sister Abigail." That scenic fire with a shadowy figure watching it is on full display, and it the "House of Horrors Match" seems it will also make it into the game.
WWE 2K19 Trailer Shows Off Superstars & Moves
Most importantly, this new trailer features superstars and some exciting gameplay. For example, fans watch as Stone Cold drops The Undertaker with a "Stone Cold Stunner" or Ric Flair locks a Figure Four on Shawn Michaels. Alexa Bliss is seen battling with Becky Lynch on the top of a steel cage. There's also shots of Kairi Sane and Xavier Woods leaping off the corner onto their opponents on the mat. Xavier Woods is shown as a "Bobble" or "Bubblehead" when he's hitting a move on Sheamus.
I honestly have no idea if Big Head mode is a thing in the new game but if it is then I'm ecstatic! If it's not a thing and my head is just actually this large in the game(to house my huge brain) then the same emotion applies. https://t.co/h2QtDsg91Q

— Austin Creed (@XavierWoodsPhD) September 13, 2018
Another shot shows Braun Strowman hoisting up his Money in the Bank briefcase from the ramp. There's also "Rowdy" Roddy Piper in a cool transitional shot where Ronda Rousey is shown standing in his place right after. Fans can see "Zombie" Triple H swinging a bat or sledgehammer, as well as both versions of "The Demon" Finn Balor, and more (below).
While a rocking song backs the WWE 2K19 trailer, fans hear sound effects such as landings on the mat, heads hitting cage walls, and some trademark voices. These include Million Dollar Man's well-known laugh, and that even more well-known "Wooo" from Ric Flair. It looks like this game just may be ready to deliver the sorts of true-to-life moments that have emerged inside and outside the ring in the past year and before that.
The WWE 2K19 game releases on October 5th for the Collector's or Deluxe Edition, with the Standard Edition of the game set to arrive on October 9th. Fans can buy the game for PlayStation, Xbox, and Nintendo Switch consoles.