It's NFL Week 13 and there's a huge game on the schedule for Thursday night. Dak Prescott and the Dallas Cowboys will continue their pursuit of a playoff spot but have their work cut out for them. They'll take on Drew Brees and the red hot New Orleans Saints, a team which has reeled off 10 wins in a row. Thanks to various Madden 19 simulation games, fans are getting a glimpse of Saints vs. Cowboys predictions for tonight.
Saints vs. Cowboys predictions: Dallas defense eats up Brees
Right now, the New Orleans Saints are considered one of the top seeds in the NFC. Brees and company have lost only once all season and handed the previously-undefeated Los Angeles Rams their only loss. In fact, Brees' name is among award contenders and the team is considered a Super Bowl favorite right now.
The Dallas Cowboys (6-5) have recently managed to get to the top of their NFC East division after beating the Redskins on Thanksgiving. Their trade bringing Amari Cooper to their roster has come up big. However, they have yet to face a team quite like this juggernaut. Ahead of the matchup, the EA Sports' Madden Twitter showed off New Orleans' uniform colors of choice for tonight's away game.
The #Saints will wear black jerseys and black pants vs the Cowboys! #GoSaints | @EAMaddenNFL pic.twitter.com/aBDUgnwNwQ

— New Orleans Saints (@Saints) November 29, 2018
Various websites run weekly Madden 19 simulation games for the NFL teams. It's no surprise that the Dallas Cowboys are always a popular one. Over at USA Today's Cowboys Wire, they ran a simulation to see what might happen tonight. The Cowboys were able to get to quarterback Drew Brees quite a bit on their home field, recording a whopping nine sacks.
In a surprising Cowboys vs. Saints outcome, Madden simulated the home team getting the win 21-14. The final stats showed Dak Prescott throwing for 263 yards, three touchdowns, and an interception. Receivers Amari Cooper and Michael Gallup had two of the TDs and a combined 134 yards.
On the opposing side, it wasn't a huge day for Drew Brees who had just 211  yards and two touchdowns. That's certainly light for a guy who is among NFL MVP candidates, but based on the sim he was eating the ground quite a bit. Everyone has a bad game at some point, right?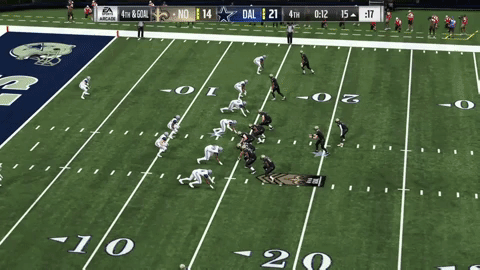 Saints vs. Cowboys predictions: An overtime thriller
Tonight's game is in Dallas, and oddsmakers have the visiting Saints favored to win it by a touchdown. However, the sims may be pointing towards the upset. Another Cowboys vs. Saints simulation arrives through App Trigger's Matthew Liebl. Their particular outcome for the game may surprise fans even more. If it becomes what actually happens in tonight's big NFL game, it could become a classic for the season.
App Trigger's simulated game has the Cowboys losing 24-10 late in the fourth quarter. However, Dak Prescott orchestrated a key drive down the field allowing Ezekiel Elliott to score a five-yard rushing TD. Not long after, Dallas' defense came up with a great INT via safety Jeff Heath. Prescott connected with Elliott on a 16-yard rushing play, tying the game.
Brees came up empty with under a minute to go. That forced an overtime session between two potential playoff contenders. In the extra time, both teams had scoring opportunities. Both teams also threw interceptions. Fortunately for Dallas, theirs came closer to field goal territory, and they made the smart play to win the game 30-27.
Ready to show out in all white tonight. #NOvsDAL ❄️@EAMaddenNFL | #DallasCowboys pic.twitter.com/0UVCpBkC5x

— Dallas Cowboys (@dallascowboys) November 29, 2018
Either way, both of these Madden 19 simulation outcomes seem to point towards a big Dallas upset victory at home. That win would keep them up top in their division, and still alive in the playoff hunt. For fans who believe these outcomes are too true to be real, consider running a sim of your own, or even controlling a team in the matchup ahead of the real game tonight.
The New Orleans Saints take on the Dallas Cowboys starting at 8:20 p.m. Eastern Time on FOX on Thursday night.
Get more of the latest information about the popular football video game at our Madden 19 news section!