On Wednesday (Apr. 10), the NHL Playoffs officially get underway. Among the top teams vying for this year's Stanley Cup trophy will be the Tampa Bay Lightning, Vegas Golden Knights, and St. Louis Blues. There's also the defending champion Washington Capitals. An NHL 19 playoff simulation is here to break down who will win the bracket matchups and ultimately skate off with the Stanley Cup this postseason.
NHL 19 Playoff Simulation Predicts Stanley Cup Champions
Heading into the NHL Playoffs for 2019, one team is clearly considered many levels above the competition. That is none other than the Tampa Bay Lightning. They finished the season with a record unmatched by any other team at 62-16-4. That gave them the role of odds-on-favorite to win the Stanley Cup for the first time in team history. They entered with 9 to 5 odds to win it all according to Vegas Insider.
Just behind Tampa Bay is the Boston Bruins and Calgary Flames at 10 to 1 odds. The Nashville Predators, San Jose Sharks, and Vegas Golden Knights are all 12 to 1 favorites to win it. The Washington Capitals are the reigning champions and also skate into the postseason with 12 to 1 odds.
In sports, anything is possible, but based on the new NHL 19 Playoff simulation, the bracket is going to play out in favor of the favorites. They revealed their complete simulation of each of the matchups, round-by-round. The final four teams include last year's Stanley Cup representatives. However, Vegas fell to the St. Louis Blues, 4-2 and the Capitals lost 4-2 to the Lightning.
NHL 19 Playoff Simulation bracket reveals new Stanley Cup champs
In the end, their bracket reveals the Tampa Bay Lightning defeated the St. Louis Blues 4-3 in the Stanley Cup Finals. Based on Tampa Bay's mastering of their competition this season, it seems the Stanley Cup isn't too far out of reach. Check out EA NHL's full simulated bracket results below.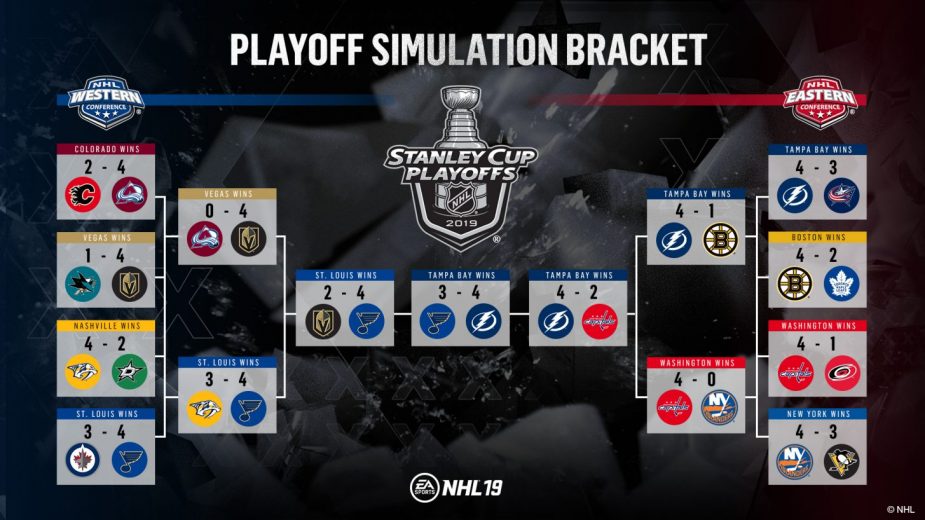 Of course, the real games will have to play out on the ice. There will be six Game 1s going down on Wednesday night with the Lightning opening things up in their first game against the Columbus Blue Jackets. Other teams on the schedule include the Pittsburgh Penguins, Vegas Golden Knights, and St. Louis Blues.
Keep in mind that there is an NHL 19 Stanley Cup event going on within the Hockey Ultimate Team game to let gamers experience the fun and excitement of adding postseason stars to their rosters.
By the way, the NHL 19 game is now part of EA Access Vault. Get more of our NHL 19 news here.