Just this past week, EA Sports officially revealed the cover, release date, and a trailer for the upcoming NHL 20 game. So far, we know that the Toronto Maple Leafs' Auston Matthews will grace the game's cover. Also, the game will release in mid-September, on the 13th, with Deluxe and Ultimate Edition pre-orders coming three days earlier. In addition, we saw a cover reveal trailer with some glimpses of gameplay. However, gamers may want to know what the NHL 20 features and gameplay updates are. Here's some of what to expect with the game.
NHL 20 features & gameplay updates include Signature Shots, Improved Goalie AI
A report via GameInformer this past week provided a more in-depth look at what's to come for the NHL 20 features or improved gameplay. One of the big additions will involve Superstar Signature Shots. These will be special shots that specific NHL superstars use on the ice.
It's a way to showcase the different players in the league, giving them unique shots in the latest game. We haven't seen how many Signature Shots will be in NHL 20, so it'll be interesting to see which players have them. We'd expect the cover athlete Matthews and maybe a Leafs teammate or two will be among those players as well as top stars like Sidney Crosby and others.
EA implemented something called "RPM Tech-powered gameplay" for these shots. There will also be an additional 45 "new contextual shots" for all players to use in the game. EA mentions the RPM tech should make gameplay quicker and more fluid in terms of the animation when trying to goals, passes, or other moves.
The developers also used a new goaltender A.I. for NHL 20. This will supposedly let the goalie read positioning and "threat levels" for the attacking opponents.
Team Celebrations will be a part of the new NHL 20 features. Basically, after winning a game, the entire team can participate in a unique post-game victory celebration. This was showcased a bit in the new NHL 20 trailer as shown in the animated GIF image below from the Carolina Hurricanes.
New commentary, new game presentation
In-game commentary for sports games can often become stale if the developers continue to draw upon the same tired old dialogue for describing players or plays. That won't be the case with the NHL 20 commentary as they'll introduce new commentary and guest commentators. A new commentary team is in place, replacing Doc Emrick and Eddie Olczyck. That duo joined the EA title back in 2014.
Per Game Informer's report, the main commentators will be James Cybulski and Ray Ferraro. They'll be joined by guest stars including hockey stars or personalities like Wayne Gretzky or Don Cherry. Game Informer also mentioned celebrities like "Chance the Rapper and Drake," but also said they're unconfirmed. Adding Drake would seem like a major feat, but one never knows.
EA's website mentioned the "new play-by-play and color commentary" as well as new-look scoreboards and overlays or graphics for the game presentation. That should keep things fresh. A screenshot via EA's site (below) shows off some of the new graphics presentation.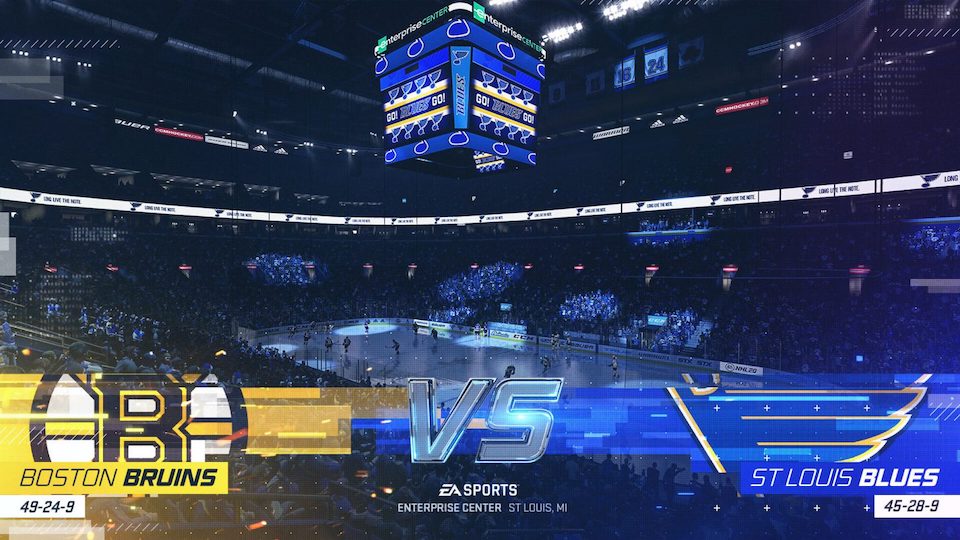 There will also be a new highlight reel after each period in a game. This will spotlight one star so far and show off a reel of their best plays so far in that game. Gamers who enjoy the NBA Live title may be familiar with this sort of highlight reel, so stay tuned for something similar as part of NHL 20.
Also, be on the look for another article here at VGR going over the new NHL 20 game mode updates. Those include World of Chel, Ones, and Hockey Ultimate Team, among other aspects.
Get the NHL 20 pre-order details for the games ahead of release. Also, see our NHL game news for future updates.