When Battlefield 2042 launches later this month, the feature likely to attract the most attention (at least from franchise veterans) is Battlefield Portal. New details about this core mode were recently released by DICE, including a detailed breakdown of how maps will work. Even at launch, Portal is already looking to boast an impressive number of different maps.
Battlefield Portal: Maps, Layouts & Variants
When it comes to maps, Battlefield Portal is clearly aiming to provide an incredible amount of variety. The headline maps, as it were, are six classics from past Battlefield titles; Battle of the Bulge, El Alamein, Arica Harbour, Valparaiso, Noshahr Canals and Caspian Border. According to DICE, Portal's "default experiences" will allow players to relive these six classic maps. However, with Portal's editing tools, a much larger range of maps will be available to players.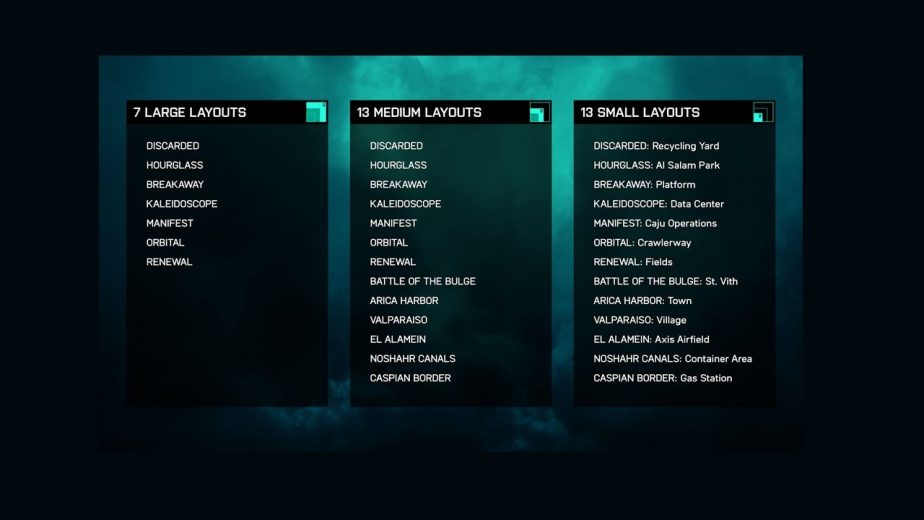 Portal will feature five game modes at launch, with different maps available depending on which you choose. Conquest Large, for example, appears to offer the largest; "If you're picking Conquest Large," writes DICE; "you'll be able to choose from all of our 128-player Maps in Battlefield 2042, and if you're picking either Conquest or Rush, you'll be able to also add any Battlefield Portals classic maps into your rotations."
However, the number of maps effectively increases considerability when you take into account the options for alternate layouts and map variants. At launch, there will be 33 different map layouts total; 13 Small, 13 Medium, and 7 Large. These include both classic maps and Battlefield 2042 maps. However, PlayStation 4 and Xbox One owners should note that Large Maps will not be available on their consoles due to the size limitations of the old-generation platforms. Interestingly, the number of players on any given map is actually up to players to define; if players want to put 128 players into a Small Map, that is entirely possible!