Blizzard has introduced a brand-new feature to Overwatch last month on July 18, 2019, that is – Role Queue. Role Queue will allow Overwatch players to pick a role before getting into the match. These three roles are Support, Damage, and Tank. After they've picked a role (let's say, Tank), they'll only be given Tank heroes to choose from when the match starts.
It's definitely a big change for Overwatch and it will take players a little bit of time to get used to this new feature. Role Queue has been available on Public Test Realm PTR since July 18. Now, Blizzard will launch this feature on the live servers starting August 13, 2019, as a Role Queue beta season.

Role Queue – Three SRs in Competitive Playlist
Talking about Competitive playlist, until now, Overwatch gave players only ONE Skill Rating SR for the whole competitive playlist. Well, with Role Queue, players will be given THREE Skill Ratings, each for every one of the Roles. So, now, you can play placement matches for Tank, Damage or Support to get Diamond.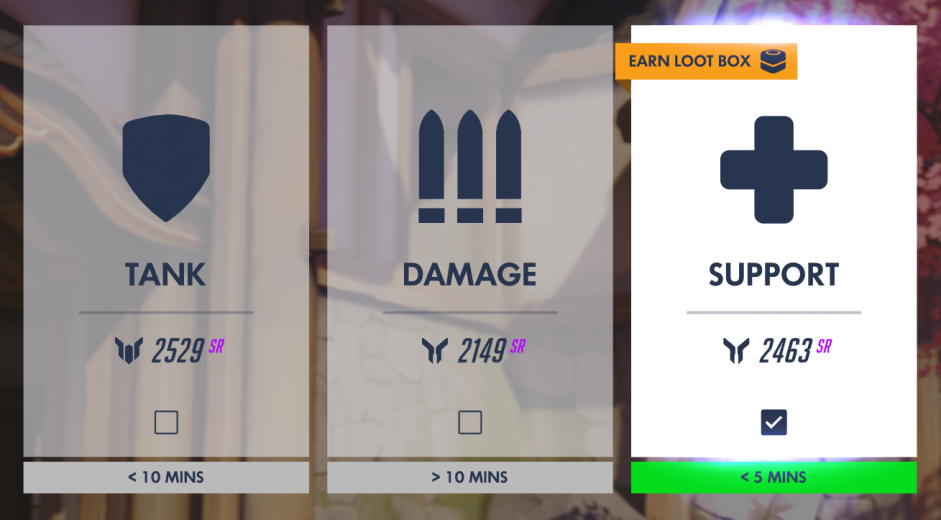 If everything goes according to plan, Role Queue will go fully Live on Sept. 1 with the new Hero – Sigma. Below, you can find some important keynotes for this new feature.
At the end of a match (in both Competitive Play and Quick Play), players will return to the main menu and select their role before queuing for the next game.
The matchmaking system will then match two tanks, two supports, and two damage heroes to create a team, and upon entering the match, players will select heroes within their chosen roles.
Players can earn Competitive Points similar to other competitive mini-seasons and qualify for Top 500 Leaderboards during the beta season.
In Quick Play, the Role Queue system will allow us to determine each player's matchmaking rating (MMR) on a per-role basis. This enables us to matchmake Quick Play games based on the MMR for each player's chosen role.
Role Queue beta starts from August 13th to Sept. 1st. This will allow players to get their team-play strategies done before the new hero goes live on Sept. 1, 2019.