Battlefield 5 is due to release in under a month's time, in mid-November. DICE has said that there won't be an additional beta between now and then, so gamers will need to wait until the 20th to play the game again. Or not. There are actually several ways to play the game early. Merely buying the Deluxe edition of the game, for example, will give you early-access. However, there is another way to play the game even earlier for free.
Play Battlefield 5 Early With a Play First Trial of EA Access
EA runs two subscription services; Origin Access on PC, and EA Access on Xbox One. Unfortunately for PS4 users, these services are currently unavailable on the PlayStation 4. Subscribers to either of these services will be able to play Battlefield 5 from as early as the 9th of November. If you're not already subscribed to these services, EA is offering a ten-hour Play First Trial which will allow gamers to play Battlefield 5  for up to 10 hours from the 9th of November, for free.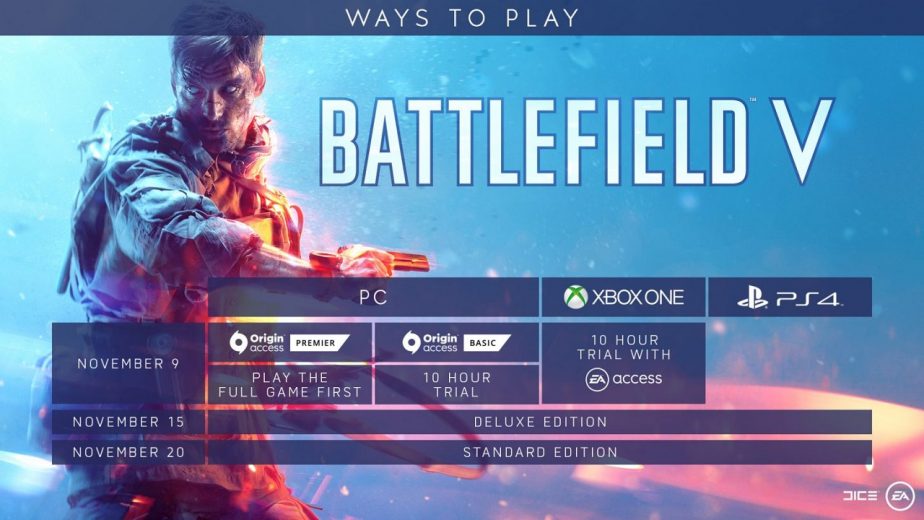 On PC, you can use the Origin Access Basic service to use the 10-hour Play First Trial. You don't even need to have bought or pre-ordered the game. The trial will give you access to all of Battlefield 5's multiplayer modes and maps, and the Prologue and Under No Flag War Stories. Once the ten hours have elapsed, you can buy the game at a 10% discount and all your progress from the trial will carry over. Note that this trial can be used for all of EA's games, but DICE is specifically suggesting players take advantage of it for Battlefield 5 in a recent news post.
On Xbox One, a similar offer exists through the EA Access service. You can play Battlefield 5 for up to ten hours through the Play First Trial, and have access to the same amount of content. Once again, your progress will be carried over if you decide to buy the game after the trial ends.