Battlefield 5 is due to release on the 20th of November, in just a few weeks' time. If you have yet to pre-order the game yourself then look no further. This is our complete guide to the different Battlefield 5 pre-order options and editions. The upcoming title features a wide variety of bonuses and extras depending on which version you get, but hopefully we can lay it all out plainly.
The Battlefield 5 Standard Edition & The Enlister Offer
The Battlefield 5 Standard Edition is exactly what it sounds like; standard. With this edition, you'll get the game. However, what may be a little confusing is the Enlister Offer. This is a separate package to both the standard and deluxe editions, but is automatically included with both if you pre-order. So if you pre-order the Standard Edition, you'll automatically get the Enlister perks as well.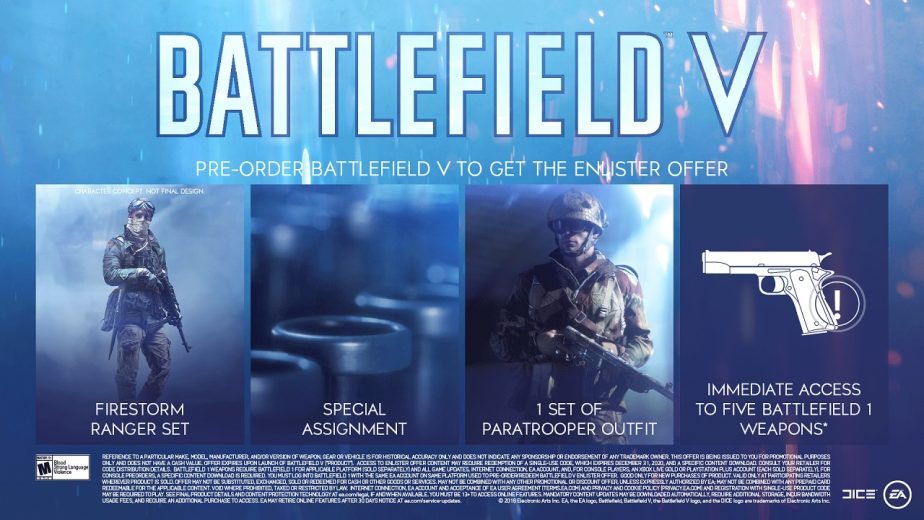 The Enlister offer includes the Firestorm Ranger Set and the Paratrooper Outfit bonus, which will let you choose one of eight different Special Soldier Sets to customise your soldiers with. You will also get extra Special Assignments in-game, and you'll start with several Battlefield 1 weapons already unlocked.
The Battlefield 5 Deluxe Edition
If you pre-order the Battlefield 5 Deluxe edition, you'll get a host of extras. Bear in mind that you'll also get everything listed in the Enlister offer, above. The first and most relevant bonus of the deluxe edition is that you'll get early access to the game. You'll be able to start playing Battlefield 5 on the 15th of November; five days early. Additionally, you'll get to choose five additional Special Soldier Sets from the eight Paratrooper Outfits in-game. The Deluxe Edition will grant you 20 bonus Airlifts every week. Each of these will contain one new customisation item.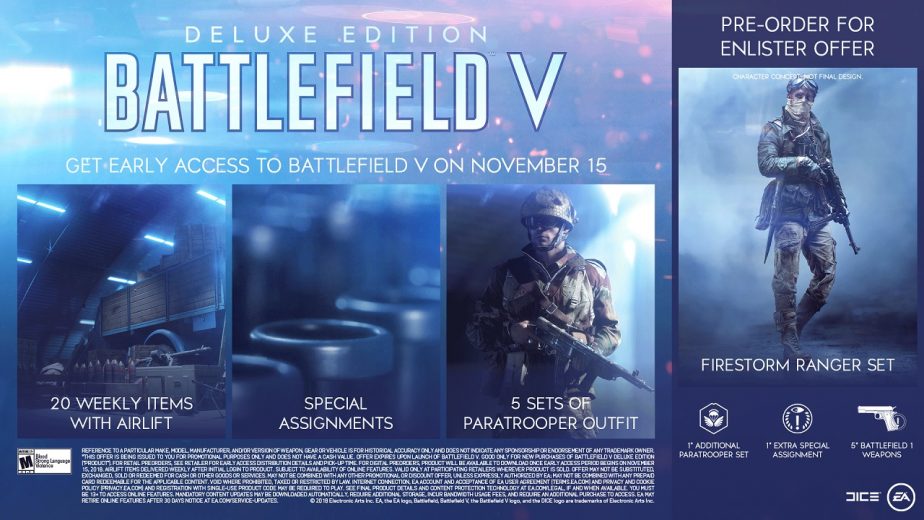 Finally, like the Enlister offer bonus, you'll also get extra Special Assignments; "Get rolling with Assignments inspired by the British Special Air Service's true-to-life raids on German air bases," says DICE; "and ones based on the defence of airfields on the North African coastline by the German Fallschirmjäger troops, as well as Starter Assignments providing more ways to test your skills on the battlefield and earn rewards."