Ubisoft recently wrapped up Rainbow Six Siege's third year of content with the release of Operation Wind Bastion. However, despite how new Operation Wind Bastion still is, Ubisoft is already looking towards the future. A fourth content year is on the way, and Siege players can purchase the Year 4 Pass right now.
Rainbow Six Siege Year 4 Pass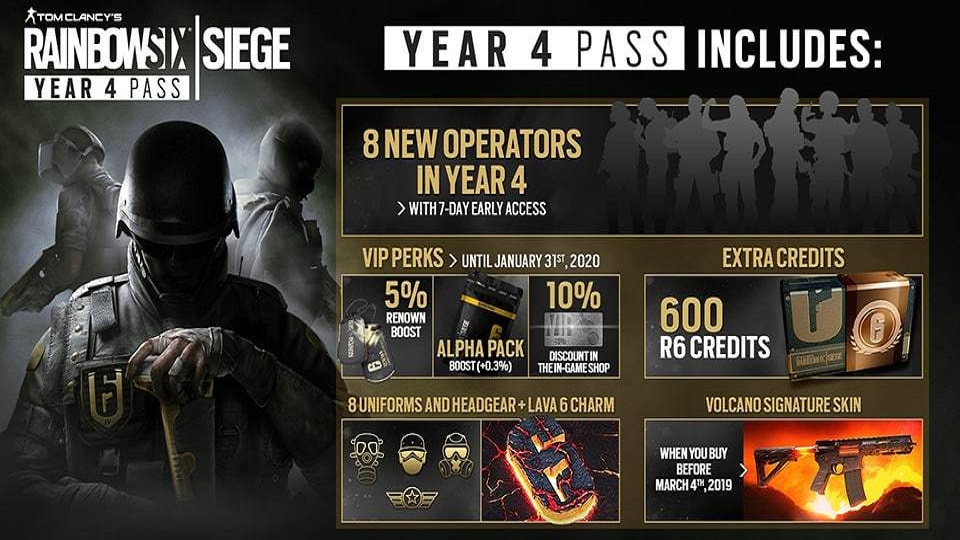 As of this writing, the Year 4 Pass is available for all versions of Siege (PC, Xbox One, and PS4). The pass costs $30 and grants access to a number of in-game benefits and perks. The most significant of those perks is seven days early access to Year 4's eight new operators. Year 4 Pass owners can also access the new operators for free, no need to grind for in-game currency.
Along with the new operators, Year 4 Pass owners unlock a series of exclusive pass-only perks. Those perks include the following:
600 R6 Credits (premium currency)
One exclusive uniform and headgear item for each of the eight new operators
The Lava 6 weapon charm
The Volcano signature weapon skin (available to those who purchase the pass before March 4, 2019)
Lastly, the Year 4 pass unlocks a series of VIP perks which remain active until January 31, 2020. Those perks include boosts to Renown and Alpha Pack earn rates and a 10 percent discount on in-game store purchases. Year 3 Pass owners also get an additional 600 R6 Credits, bringing the total up to 1,200 credits. The new operators haven't yet been revealed, but for dedicated Siege players the pass is still a great deal.
In other Rainbow Six Siege news, Ubisoft recently altered the game's overbearing anti-toxicity system. Previously, the system's automated nature resulted in instant bans for those who used inappropriate language in chat. With the new system, bans are still handed out, but only after manual review from an actual moderator. The new system also prevents other players from seeing the offending language.