With a Ranked Series split now on the horizon, Respawn is hosting a new social media giveaway. Whether you're a new or existing player, this is your chance to get a free copy of the Apex Legends Octane Edition. Of course, the game is free-to-play, but the "Octane Edition" actually includes a host of unique cosmetics and a sizable cache of Apex Coins.
How to Get the Apex Legends Octane Edition for Free
The new Respawn giveaway will be running throughout the week. The first part of the giveaway is PC-only, and console-specific options should become available over the next few days. So, if you want to get your (digital) hands on a free copy of the Apex Legends Octane Edition on PC, you need to reply to the embedded tweet above with; "what you're enjoying most in Season 4". Note that you must be at least 18 years old to enter the giveaway. Presumably, Respawn will be posting similar tweets from tomorrow which give players the option to win Xbox One or PS4 versions of the Edition.
If you're unfamiliar with the Octane Edition, it's the third special edition of the game which Respawn has launched. The first two, the Lifeline and Bloodhoud Editions, launched late last year during Season 3. The Octane Edition launched towards the end of February. Of course, Apex Legends is a free-to-play game. As such, these special editions (which are available from retail stores as well as online), don't actually include the game itself. After all, anybody can just download Apex Legends and start playing. Rather, these editions include unique cosmetics and other bonuses to help players get started.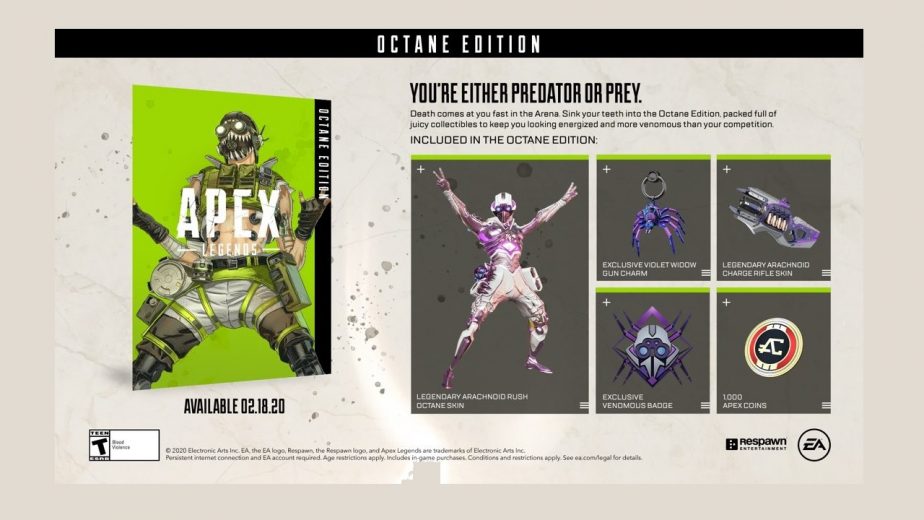 Specifically, if you win one of the Apex Legends Octane Editions, you'll be getting a load of special cosmetic items for Octane. (As the name implies!) These include the following; the rather flashy 'Legendary Arachnoid Rush Skin,' the 'Violet Widow Gun Charm,' the 'Legendary Arachnoid Charge Rifle Skin,' and the 'Venomous Badge'. Plus, you'll also get a lump sum of 1,000 Apex Coins to spend however you want. Typically, the Octane Edition retails for $19.99.