Up until now, we knew precious little about Sea of Thieves' upcoming Cursed Sails expansion other than the fact that developer Rare plans to release it sometime in July. However, in a recent interview with Polygon, Rare finally confirmed one of the expansion's standout features: spooky ships that will be manned by crews of AI-controlled skeleton pirates.
The Polygon interview didn't delve too deeply into specifics, but it sounds like the presence of these new 'Skeleton Ships' will help to shake the game's high seas up a bit. Players will naturally encounter Skeleton Ships as part of the expansion's new story campaign, and there is also potential for random non-story encounters to happen as well.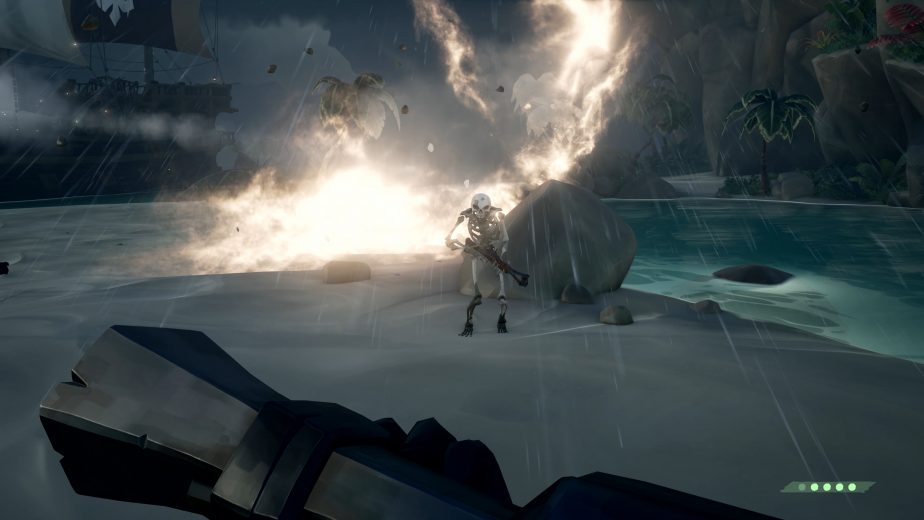 The Skeleton Ships will also have a rather interesting-sounding trick up their sleeves in the form of cursed ammunition. Again, details are scarce at the moment, but according to what the Polygon interview says, if a Skeleton Ship manages to successfully riddle a player-run vessel with cannon fire, it could potentially trigger a secondary negative effect such as making the entire player ship's crew drunk or causing their anchor to immediately drop. Players will naturally be able to acquire cursed ammo of their own by looting defeated Skeleton Ships, but Rare was careful to clarify that, for the sake of fairness and game balance, cursed ammo won't persist between game sessions.
Along with the new Skeleton Ships and cursed ammunition, the Cursed Sails expansion will also introduce a new three-person ship type called the brigantine. Since trying to pilot a four-person galleon with a three-person crew can be a bit unwieldy, the brigantine is meant to fill in the gap so to speak, allowing three-person crews to remain competitive without having to seek out a fourth player.
For more on Sea of Thieves, be sure to read about how Rare hopes to inject new content into the game (including both larger expansions and smaller event-focused updates) every four to six weeks.