Microsoft was in all-hands-on-deck mode during this year's E3 event, hosting an impressive press conference in which it unveiled a bunch of new games including Halo Infinite, and Gears of War 5. However, fans of existing Microsoft properties were shown some love as well, and in the case of Sea of Thieves, that love took the form of a brand new story trailer that provided release windows for the game's next two expansions.
The trailer opens up with a brief recap of Sea of Thieves' previously launched expansion, The Hungering Deep, along with some fun stats such as how the game now boasts over 4 million active players who have collectively racked up over 91 million hours of gameplay. After that, the trailer shifts over to a fun little story segment in which we see a hapless pirate approaching a mysterious occult merchant. The pirate has found a valuable prize: a glowing red orb which the merchant uses to briefly see into the future.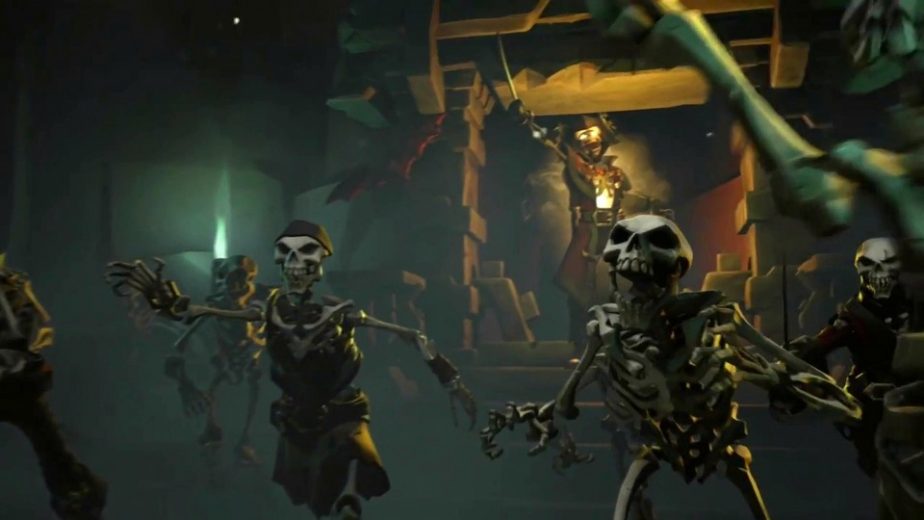 Of course, the future seen in the orb doesn't sound very fun since it's filled with lots of fire, ash, perpetual darkness, and fearsome skeleton crews roaming the seas. Plus there's a bit about "an ancient evil being set loose on the Sea of Thieves," not exactly the most ideal conditions for pirates seeking to ply their trade.
The trailer ends with a tease of when exactly all this doom and gloom will be coming to Sea of Thieves. The game's second expansion, Cursed Sails, is scheduled to arrive sometime in July, while the third expansion, Forsaken Shores, will follow in September. Specific gameplay additions for the expansions haven't been laid out yet, but going by what's said in the trailer, players can look forward to a new explorable region (the titular 'Forsaken Shores'), new enemies to fight (the skeleton crews), a massive new threat to overcome (the ancient evil), and more.