A Fortnite live event is one of the most exciting things about the game. These events are a big reason why the game has become so popular and some of them have been incredible. Fortunately for players, it turns out that Season 7 will have another live event!
The v17.20 patch was released on Tuesday, July 20, and it has brought some interesting things. Dataminers have leaked the upcoming content, including the files related to the live event. Considering that there hasn't been a live event since December 2020, this comes as a nice surprise.
Season 7 Fortnite live event information
Epic Games has decided to release some Season 7 Fortnite live event files with the latest update. These files don't include a lot of information, but they most likely serve only as a teaser. The current season is scheduled to end on September 12, which means that we are still far away from it. However, players now have something else to look forward to!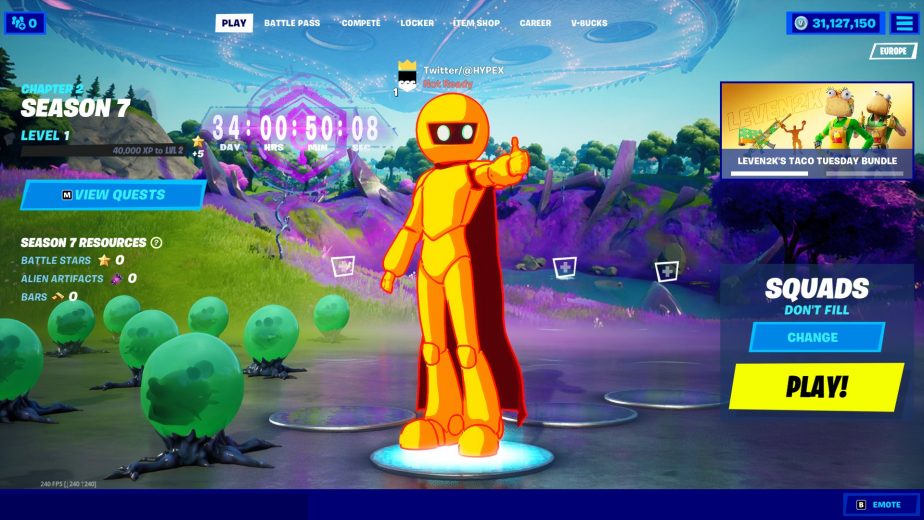 As soon as the latest patch came out, many Fortnite data miners leaked the event countdown that will appear in the game. Most likely, the countdown will appear a week before the event starts. Judging by the previous live events, the next one will probably be released in the final week of Season 7, which should be in early September.
The event details
Besides the lobby event countdown, the countdown will also appear on the in-game island. According to the leaked image, the island countdown will be located in the middle of the map where The Aftermath is located.
The Aftermath is most likely where the entire event will take place. Considering that the central part of the map also contains the Zero Point, we can expect the upcoming event to play a huge role in the Fortnite lore.
At the moment, there are not many other details about the upcoming live event. We can expect Epic Games to release more files regarding the event in the future, but considering that the end of the season is nearly two months away, this may take a while.
The last live event was the fight against Galactus at the end of Season 4, which happened in December 2020. After that, the Fortnite Battle Royale developer experimented with a single-player event at the start of Season 6, but there is no doubt that players prefer live events. The next one will hopefully be amazing!