Season Three is now live in-game for both Call of Duty: Black Ops Cold War and Call of Duty: Warzone, and with it, the update brings a whole heap of changes for both games. Alongside a new Battle Pass and the usual assortment of new content, players can expect to find some big new additions for Zombies and Warzone alike.
Call of Duty: Black Ops Cold War Season Three
On launch day – today – Black Ops Cold War Season Three launches with plenty to get players started. The Season Three Battle Pass, for example, offers the first new Operator of the season – Wraith – at Tier 0. She isn't the only new Operator, however. If you own Black Ops Cold War (and are not merely a Warzone player), then you'll also get Captain Price as a playable Operator in both games. Of Season Three's six new weapons, three are available at launch; one more than the last two seasons. These are the PPSh-41 SMG, Swiss K31 Sniper Rifle, and Ballistic Knife.
When it comes to Multiplayer, players can now jump into the Sticks and Stones mode – a classic party mode making its return to the series. Two new maps are also available; the 6v6 Yamantau map and Diesel, which is available for 6v6, 3v3, and 2v2 modes. Plus, players have gotten a few new tools for their arsenal. The Strafe Run Scorestreak, for example, lets players unleash a barrage of rockets down upon the map. A new Cargo Truck can also be found on some of the game's largest maps; Alpine, Golova, and Ruka. It will be in the new Duga map too, once that map launches for Multiplayer later in the season.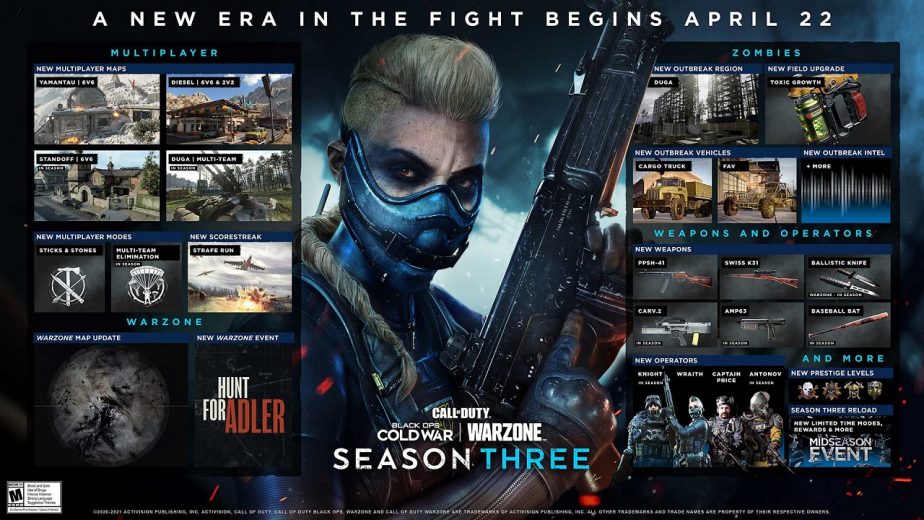 Speaking of Duga, this area is actually available from today in another mode; Outbreak. Duga is the latest new Outbreak region, continuing the Dark Aether storyline from Season Two. Outbreak has also gotten new world events and a new Fast Attack Vehicle for players to try out.
Whatever mode you plan on playing, you can also take part in the "Hunt for Adler" limited-time event. This special event will give you different challenges to complete in both Black Ops Cold War and Warzone. Completing these will earn you special event cosmetics and rewards.