Fortnite Battle Royale players are going to get another big in-game event. The Fortnite Halloween event is just around the corner, and it appears that Epic Games is preparing something big. According to the latest leak, there will be many new cosmetic items available in the game.
The Fortnite developer has already added Halloween decorations to the video game. Many places on the island have received these decorations, so we have a reason to believe that the event could start early this year. The Halloween event was the first major event in Fortnite Battle Royale last year, and we expect it to be big this year as well.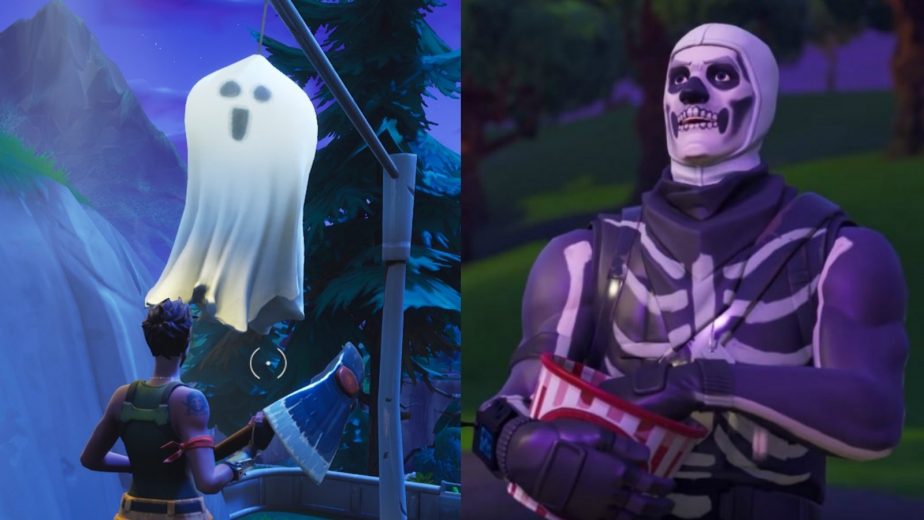 Leaked Fortnite Halloween cosmetic items
While many Fortnite players are excited to see what cosmetic items will come for the upcoming event, the truth is that most of them only care about Skull Trooper. This was one of the first released skins in the game, and it's extremely rare due to this fact.
Fortunately, there is some good news for everyone who's waiting for this skin. Twitter page @FNBRLeaks has leaked some of the upcoming cosmetic items, and it seems that Skull Trooper will come out! Epic Games has hinted at this with the season 6 intro, and this leak may have just confirmed it.
Upcoming Skins: (Part 1)
"Skull Trooper" – cid_030_athena_commando_m_halloween
"Scourge" – cid_240_athena_commando_f_plague
"Squashman" – cid_244_athena_commando_m_pumpkinsuit
"Onesie" – cid_245_athena_commando_f_durrburgerpjs
"Bullseye" – cid_242_athena_commando_f_bullseye

— Fortnite: Battle Royale Leaks 🎃 (@FNBRLeaks) October 6, 2018
It appears that the skin will also get its special pickaxe and glider. According to the Twitter data miner, Skull Trooper Glider and Skull Trooper Pickaxe will be released during the Fortnite Halloween event. There will be another glider called Plague Glider, and two more pickaxes, Herald's Wand and Carver.
Beside Skull Trooper, Epic Games will release a few other skins. At the moment, there are no images of these skins, but they will most likely be added in the next patch. Here is the list of the upcoming skins:
Scourge
Squashman
Onesie
Bullseye
Hollowhead
Plague
Skull Ranger (Female Skull Trooper)