Total War: Three Kingdoms is the next upcoming instalment in Creative Assembly's long-running Total War series. The entry is set to take fans back to Han dynasty China during the events of the Three Kingdoms period; events best known for their dramatic retelling in Romance of the Three Kingdoms, one of the four great classics of Chinese literature. Until now, Creative Assembly have said only that the game will launch in Spring 2019. Now, they have announced a release date.
The Launch Date of Total War: Three Kingdoms
Total War: Three Kingdoms will launch for PC on the 7th of March, 2019; just over five months from now. Creative Assembly have already shown off gameplay from the upcoming game, and it has been playable at gaming events, including EGX, which recently took place in the UK. In addition to the game's standard edition, fans can also purchase a Collector's Edition, which comes in a red and gold chest. The edition, which retails for $159.99, also includes a 24cm resin statue of Guan Yu, one of the most famous characters from the Three Kingdoms period. (And likely to be one of the most powerful named characters in the game.)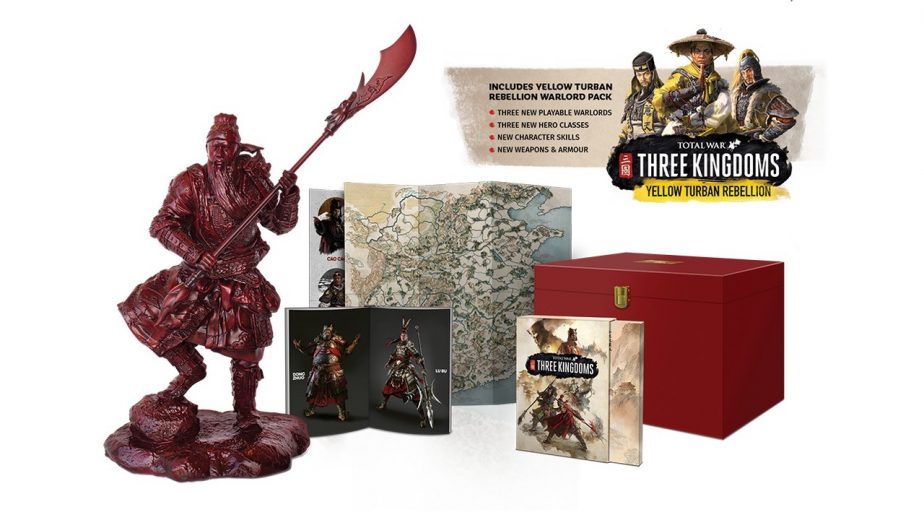 Also featuring in the Collector's Edition is an art book of concept art from the game. This book will not be available elsewhere. The edition also features a case made from genuine calligraphy paper, a map of the game's Chinese setting, and a poster. The Collector's Edition is only available directly through the Total War website. A separate "Limited Edition" will also be available through certain retailers. A list of participating retailers was published on the Total War website yesterday. Although lacking all the contents of the Collector's Edition, it will still include the calligraphy paper case, map, and poster. Alternatively, fans can simply pre-order the game on Steam. All pre-orders of the game will come with the Yellow Turban Rebellion Warlord DLC. This is being offered as an early adopter bonus.