StreamElements has now released their Q1 2019 report of the streaming industry, in collaboration with Stream Hatchet, and the latest data shows a number of interesting trends. One of the most notable factors was that Twitch has hit a big new milestone as their service continues to grow; in Q1 of 2019, Twitch users watched a total of 2.7 billion hours!
New Streaming Industry Report Shows that Twitch Has Hit a New Milestone
The new Q1 report from StreamElements charts the growth of Twitch and its direct competitors, YouTube Live and Mixer. This last quarter has been a record-breaking one for Twitch. Over 2.7 billion hours of content were watched in the platform; rising from just over 2 billion hours in Q1 of 2018. (And setting a new record for Twitch content viewed in a single quarter.) January in particular was a high-point for Twitch, with 948 million hours of content watched in that quarter alone.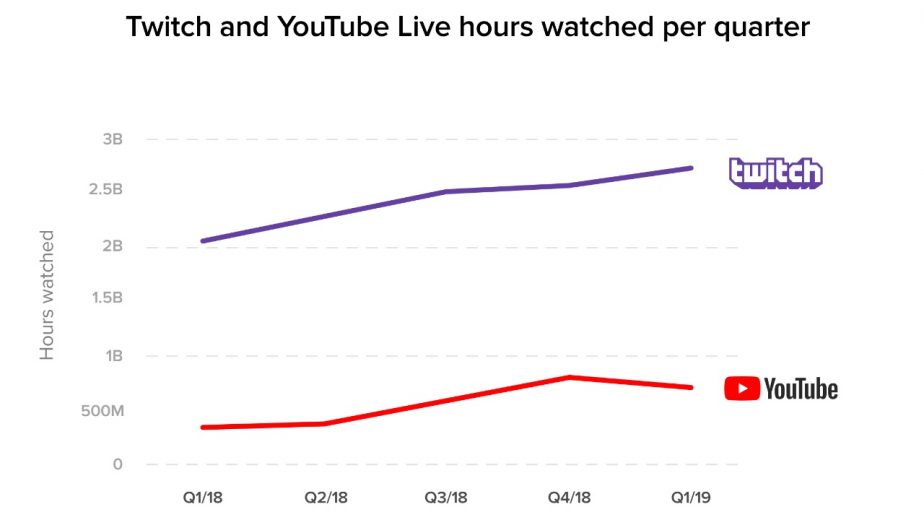 Although Twitch remains far ahead of both of its competitors, recent data from SteamLabs found that YouTube Live streamers were attracting around twice as many viewers on average. YouTube Live's viewership has also continued to rise since Q1 of 2018. In fact, it has almost doubled in that single year span, although its Q1 2019 figure was slightly lower than Q4 of 2018. Mixer also saw significant growth, quadrupling in hours watched from Q1 of 2018. However, it remains solidly in third place with 89 million hours watched.
It remains to be seen how viewership will shift going forward into 2019. However, it seems likely that all three platforms will continue to see an upwards trends; YouTube Live especially so if smaller channels are lured to the platform due to their higher average number of viewers per stream. Twitch is practically guaranteed to remain the dominant force in the streaming industry for the foreseeable future, however. There would need to be a major shakeup in the industry to close the gap between it and its competitors.