Week 3 of the ongoing Battlefield 5 Battlefest event has arrived, and with another free weekend trial starting today, fans also have a new weekly challenge to complete. This week, the challenge centres on Conquest, aligning with this week's free trial. Players who complete it can earn themselves the Battlefield 5 Trench Carbine; a new pistol carbine for the Recon class.
Battlefield 5 Battlefest Week #3: Side by Side
"Built as a prototype to fulfill a request from the German Army," explains DICE; "Although its design was based on other popular pistols used during the Great War, the Trench Carbine is unique in many ways". To unlock this new weapon, players will need to complete this week's challenge nodes. All of the nodes this week will matchmake to a Conquest playlist, with the following maps in rotation; Arras, Devastation, Marita, Operation Underground, and Rotterdam. The nodes to complete this week are as follows: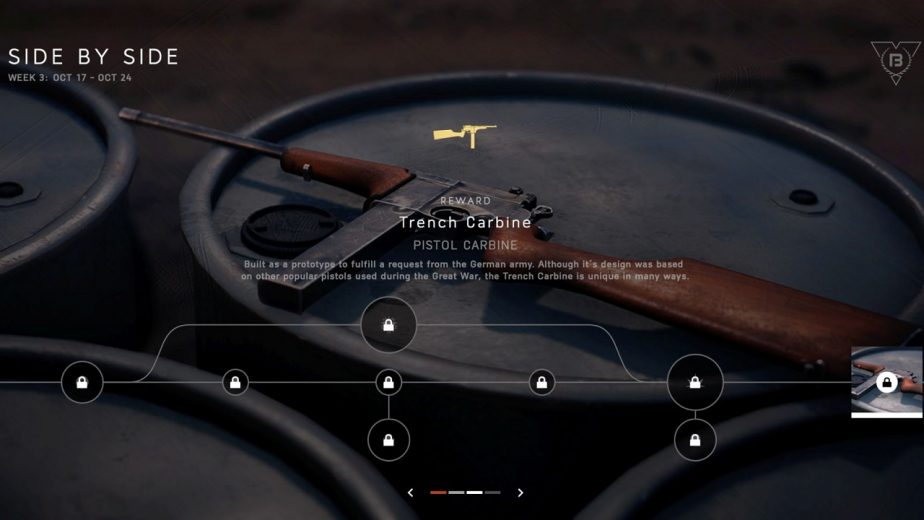 What Really Matters; First up this week, all you need to do to complete this node is earn a total of 7,500 objective score.
The Whites of Their Eyes; This quick objective simply requires you to kill a single enemy. However, you must be within 15 metres of your victim for it to count.
Operational Success; For this node, you'll need to win a total of 3 rounds.
King of the Hill; This objective requires you to kill a total of 5 enemies. However, you must do so while either attacking or defending an objective.
SANITÄTER! Sonny Tater?; This optional objective will suit experienced Medic players. You need to revive 6 teammates as a Medic all in a single life!
Paramedic; A slightly easier Medic objective, this node simply requires you to revive 12 teammates.
A Game of Numbers; For this node, you need to either damage enemies or heal your allies for a total of 7,500 health.
Broomhandle'D; This final optional objective can't be completed until you've actually unlocked the Trench Carbine. To complete it, you simply need to put your new weapon to use and kill 30 enemies using the Trench Carbine.