Dark Souls Remastered, first launched for PC, PlayStation 4, and Xbox One in May of this year. The remastered version of FromSoftware's first Dark Souls title was brought to modern consoles by QLOC, a Polish studio. In addition to better graphics, framerate, etc., the remaster also features dedicated multiplayer servers. The number of players who can play simultaneously has gone up from 4 to 6. Meanwhile, the password matchmaking found in Dark Souls 3 has been introduced. Last month, the remaster came to the sole remaining platform; the Nintendo Switch. While it was QLOC which ported the game to other platforms, the Switch version was developed by Virtuos.
Virtuos has previously brought other titles to the Nintendo Switch, such as L.A. Noire, and has also worked on dozens of AAA titles; Starlink: Battle for Atlas, Heavy Rain, XCOM: Enemy Unknown, and Injustice: Gods Among Us, to name but a few. I recently had the opportunity to interview Lukas Codr, an Executive Producer at Virtuous, as well as Tang Mengjia, a Game Producer at the company, about how Virtuos brought Dark Souls Remastered to the Nintendo Switch.
How long did porting Dark Souls Remastered to the Nintendo Switch take?
LC; "A bit more than a year. At the beginning, it took us several months until we got a playable version running because we had to make sure that both code and data are fully compatible with 64-bit format. We've also spent quite a lot of time on polishing and performance optimisation. And since there were both physical and digital versions of the game, there was about a 6-8 week gap between submission and the game hitting the market."
Do you think that Dark Souls Remastered is well-suited to a very different sort of platform like the Nintendo Switch? Or, did changes have to be made to help the game function better?
TMJ; "Knowing how important precise controls were in the original game (where a less-than-perfect move could easily kill you), we were really eager to try the first playable version in the handheld mode. At that time we did not really know if the game would be playable this way, but pretty much right away our QA and designers started killing monsters with some pretty sophisticated moves, so we knew we would be safe."
How have the game's graphics been "tailored" to the Switch, as Nintendo have said?
TMJ; "We had several options on the table; increasing texture resolution, reworking lighting, etc., but our client partners were pretty confident with their strategy that smooth framerate in all situations needs to take priority over visual improvements. Our technical artists and engineers have spent a lot of time re-arranging assets to make sure places like Blighttown or boss fights run well. And there was still some performance reserve allowing us to add ambient occlusions to the game."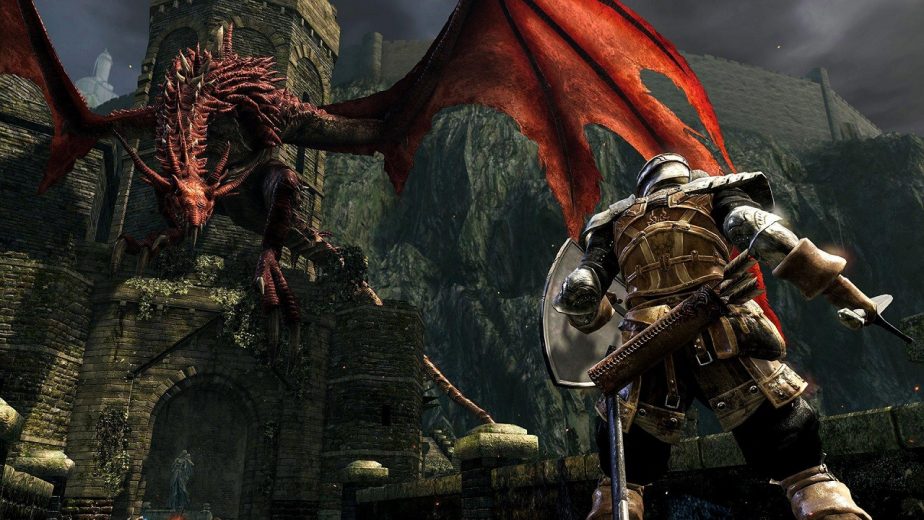 Were there any particular challenges to porting a game like Dark Souls Remastered to the Nintendo Switch?
TMJ; "There are always challenges when porting a game to a new platform, but as we are now familiar with the Switch hardware, we were pretty confident we could tackle them. Apart from the 64-bit support in the beginning, there were almost none. Perhaps making sure our guys spent enough time working on the game and less time playing the game, because when we had our first portable build, a lot of people in the studio got very excited and wanted to try it right away. Nintendo Switch definitely has a 'cool factor' for hardcore gamers."
The Switch version is the only version of Dark Souls Remastered which doesn't feature a framerate of 60 FPS. Is that due to the limitations of the platform?
LC; "We discussed with From Software and fixed goals for what would be the best experience on a hybrid hardware which can change instantly from home console to handheld. We decided to secure a reliable 30fps experience across all experiences, with 720p in handheld mode and 1080p in docked mode."
Did you find that you had to make significant changes to Dark Souls Remastered to help it run on a console which is very different from those it was originally designed for?
TMJ; "We discussed with From Software and fixed goals for what would be the best experience on a hybrid hardware which can change instantly from home console to handheld. We decided to secure a reliable 30fps experience across all experiences, with 720p in handheld mode and 1080p in docked mode."
How easy or difficult was it to implement Dark Souls' online functionality and multiplayer on the Nintendo Switch?
TMJ; "The difficulty was in two points; first we had to change the multiplayer technology to a more modern server-based solution (and also enable 6 player multiplayer). And besides that, we also had to make sure that the multiplayer mode works well even on wi-fi networks which can sometimes have lags. We could leverage some code from the other platforms for the first point, but we also had to do a lot of optimisation on both front-end and back-end to make sure the experience is smooth."
On the same topic, did you face any additional requirements from Nintendo to facilitate multiplayer? Of course, the company has historically not permitted certain aspects of online multiplayer which are common on other consoles.
TMJ; "Not really. It took some time to make sure all the server configs are compliant, but luckily we went through an early certification phase which identified most of the issues. There were no requirements/limitations which would be impacting gameplay."
What was your experience like of working with FromSoftware and, presumably, QLOC; compared to your experience working with other AAA development studios?
LC; "From Software are very experienced developers, we just had to work on our communications in multiple languages. But this is something we already had experience with, so we expanded the number of native Japanese production staff involved in the project to make communication smooth. The Japanese development process also heavily relies on consensus, so there was a period of development where we asked for some of their production and engineering people to come over and work alongside us for a while, so things that would otherwise take several days to resolve over e-mails and video calls were handled immediately on the spot. This was extremely beneficial for the final quality of the game.
Do you foresee working with FromSoftware again in the future, perhaps porting other games of theirs to the Switch?
LC; "We hope to work with both From Software and Bandai Namco again, of course!"