Launching into 2020 with a new patch and a new community update, in which the studio gave fans a glimpse of what new content is on the horizon, Infinity Ward has also announced the launch of an official Call of Duty: Modern Warfare Trello board. This is something which other studios like DICE and Respawn have done for their games. As such, it's not that surprising to see Infinity Ward following suit. The studio will henceforth be using the board to give fans a sense of what they're working on in 2020.
The New Call of Duty: Modern Warfare Trello Board
"You all are great at keeping us updated with features you'd like to see, modes you want to play, bugs you encounter, and overall feedback," writes Infinity Ward, in their first 2020 community update; "With that, we want to keep you as up to date as possible, so starting today we'll be using this nifty Trello board to show you issues we're tracking, provide support, and even give a sneak peek at things that are coming up. It's not everything we're working on, but it's an awesome way to see what's on our radar and some of the community issues we've acknowledged."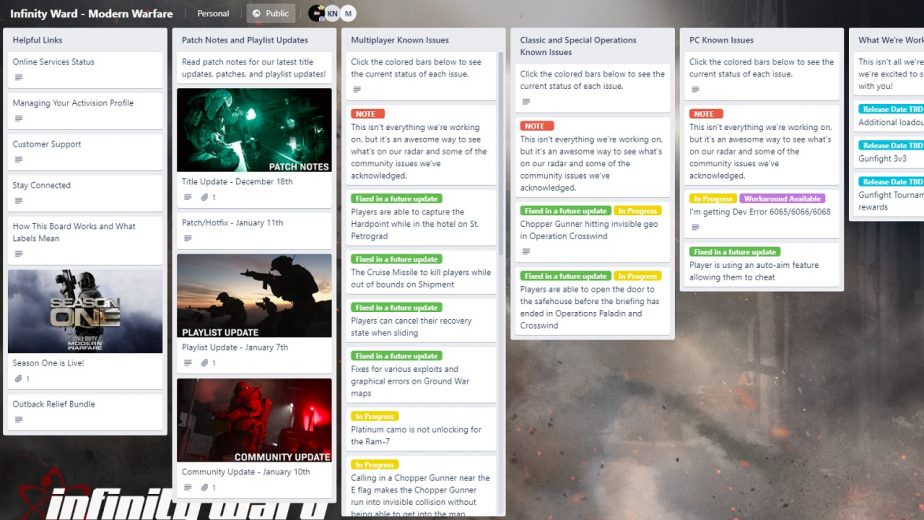 Trello is a service which is already used by various game studios to give fans a look into ongoing development. Generally, the purpose of a Trello board is to show players that fixes for certain bugs/exploits are in the works. Indeed, look at the Modern Warfare Trello board, and you'll see that 'known issues' make up most of the posts. "Platinum camo is not unlocking for the Ram-7," reads one post, marked as 'In Progress'. Elsewhere, you can see that an exploit where; "players can cancel their recovery while sliding," has a fix coming in a future update.
Interestingly, there is also a section entitled 'What We're Working On'. This part of the board includes the three things Infinity Ward mentioned in their community update; a 3v3 Gunfight mode, more loadout slots, and Gunfight Tournaments. These things are currently marked as 'Release Date TBD'. However, fans should certainly keep an eye on this part of the board. After all, the studio will likely add more things to it in the future.