We're closing in on the beginning of Fortnite Season 8. It looks like this season will feature an exciting theme involving water, pirates, and some kind of fiery beast. But when does Fortnite Season 8 end? We can actually hazard a pretty strong guess thanks to a recent leak.
When Does Fortnite Season 8 End? Here is the Leaked Date
According to FortniteIntel, there was a leak on the PlayStation Events page. They managed to get a screen capture of it. You can view it below: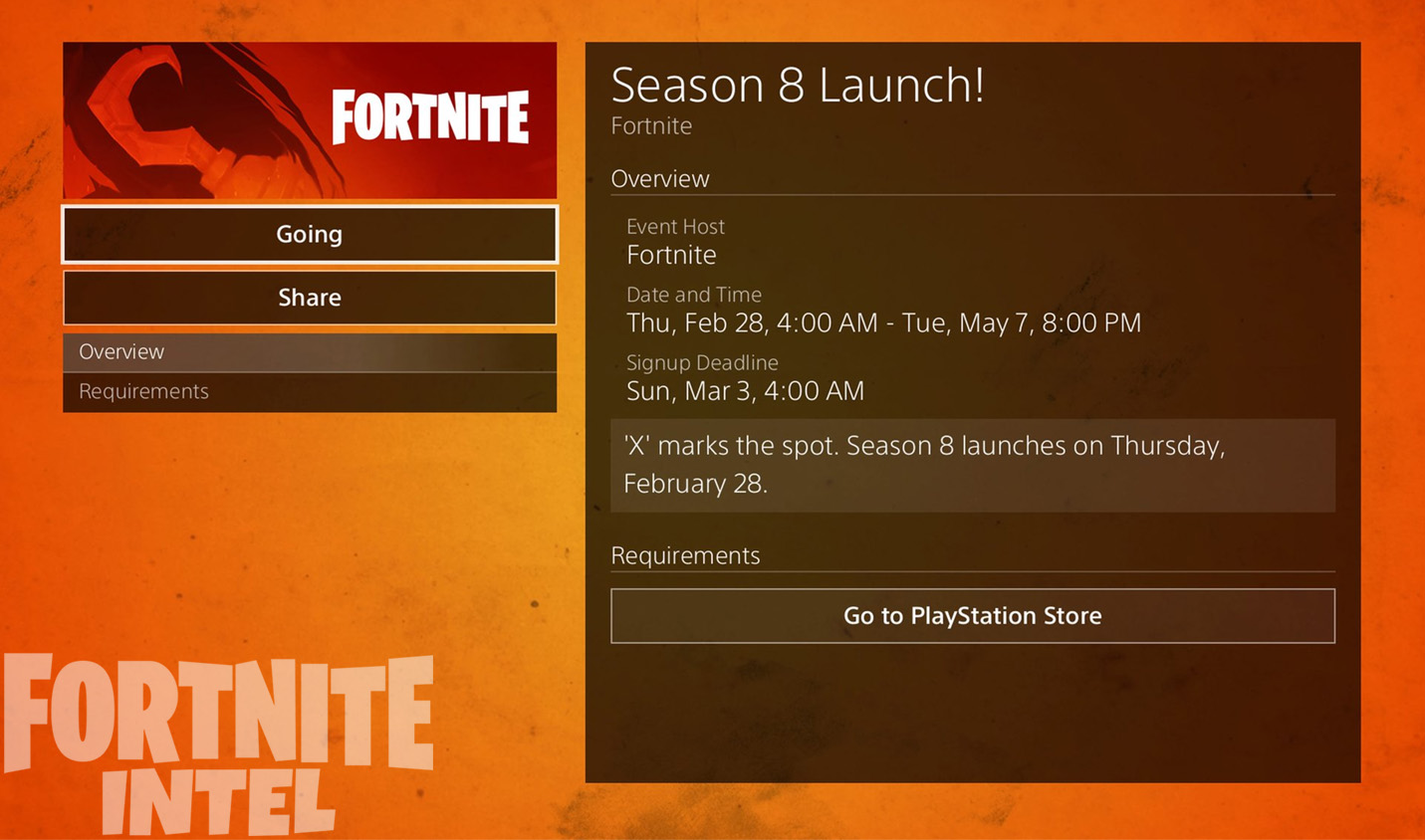 The page is titled "Season 8 Launch!" Under Date and Time, it lists, "Thursday, February 28th, 4:00 AM – Tuesday, May 7th, 8:00 PM."
That is around 10 weeks, which is what we would expect given past seasons of Fortnite. Season 7 was closer to 12 weeks, but that was because of the holiday break. Since this is a leak, it is not "official." It could be a placeholder. But we can feel reasonably confident about the end date listed.
If you have been keeping up with teaser images, leaks and rumors, you know that Fortnite Season 8 will involve pirates and (of course) loot. It looks like there will probably be an overall aquatic theme as well. With the iceberg melting and the earthquakes, major map changes may be on the horizon.
No matter what is ahead, we know one thing for sure. It's going to be a lot of mayhem and a lot of fun! The team at Epic always knows how to keep the action fresh.
So, just to reiterate, it looks like Fortnite Season 8 will end on May 7th. Keep up with all our Fortnite news, and be ready to log in for the launch of Season 8 on February 28th!