After many weeks of speculation among fans, Respawn has at last announced details about both Apex Legends Season One and the Apex Legends Battle Pass. In fact, both are coming to the game tomorrow! Season One will be titled "Wild Frontier," and will bring the first new Legend, Octane, along with a whole host of new skins and other content.
Apex Legends Season One: Wild Frontier and the Apex Legends Battle Pass
Apex Legends Season One: Wild Frontier is due to begin at 10:00 AM PT tomorrow. It marks the start of the first official Apex Legends season since the game's unexpected release. At the moment, fans don't know much about what the season will bring in terms of new content. However, the biggest new addition will be Octane, the first new Legend to come to the game post-launch. Respawn has appeared to be teasing Octane recently with the addition of bounce pads to the game's map; now his imminent arrival has been confirmed.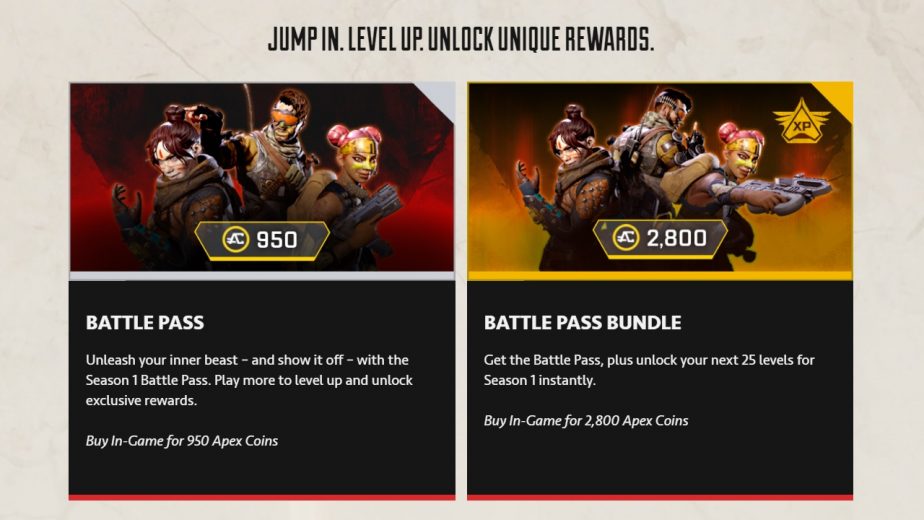 The Apex Legends Battle Pass is also launching alongside the start of Season One. Players can purchase the Battle Pass for 950 Apex Coins. Immediately after purchasing the pass, players will get three new skins; Lifeline's 'Revolutionary' skin, Mirage's 'Outlaw' skin, and Wraith's 'Survivor' skin. Once a player has the Battle Pass, the more they play Apex Legends means more levels up for the Pass and more exclusive season rewards. There are 100 different rewards attached to the Battle Pass; one for each level. Players who want a boost can buy the Battle Pass Bundle for 2,800 Apex Coins. This gives you the Battle Pass and also unlocks your next 25 levels immediately.
Important to note is that will earn rewards retro-actively when you buy the Apex Legends Battle Pass. If you play in Season 1 and get up to level 30, then buy the Battle Pass, you'll immediately unlock all the rewards up to level 30. Players who don't buy the Battle Pass can still earn some things, however; anyone who plays in Season 1 can earn 1 Wild Frontier Legendary Skin, 5 Apex Packs, and 18 Wild Frontier Stat Trackers, whether they have the Pass or not.