The latest streaming industry report from StreamElements is now available, and it reveals a number of interesting trends. In addition to Twitch hitting a big new milestone, it also shows that the notion that Apex Legends could be a major rival to Fortnite may have been somewhat premature. Despite peaking far above Fortnite, Apex Legends Twitch views have since gone sharply into decline. Meanwhile, Fortnite's views have been almost totally stable.
Apex Legends Twitch Views are Declining, While Fortnite is Stable
The competition between Apex Legends and Fortnite is without a doubt the biggest story for the streaming industry in Q1 of 2019. For the first time in months, Fortnite faced a serious rival, or at least it seemed to. However, it now looks as though the initial burst of interest in Apex Legends was not sustainable; not entirely surprising given that the game has few barriers to entry. While thousands of gamers jumped into the game at launch, many no doubt decided that it wasn't their cup of tea. After all, the game had almost no pre-release marketing. As such, players had little idea what to expect.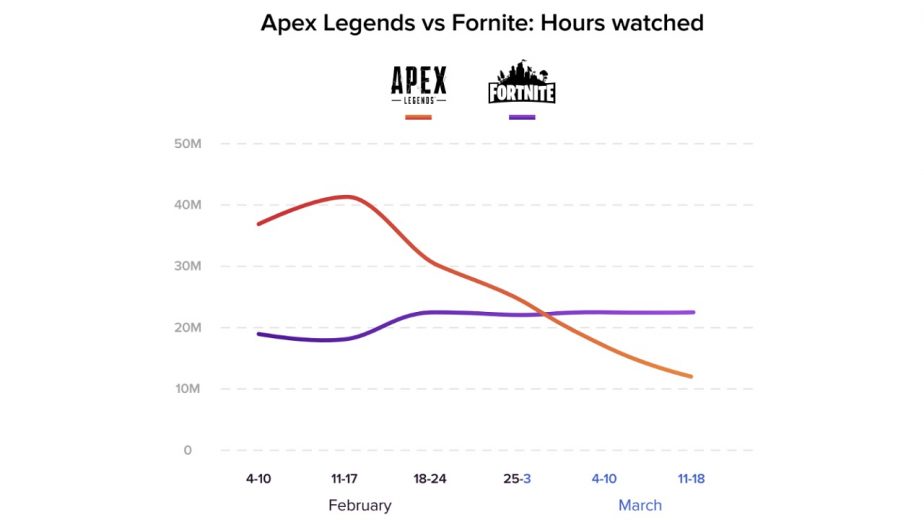 When it launched, Apex Legends shot to the top of Twitch's most viewed games and began rising. Within its first week, Apex reached a peak of 40 million hours watched in a single week. Fortnite, on the other hand, dropped below 20 million hours watched in the same week. Overall, Fortnite dropped below 100 million hours for the month of February; the first time this has happened in months. However, these shifts began to rapidly correct. By the start of March, Apex had fallen to be level with Fortnite at around 22 million hours viewed per week.
By mid-March, Apex had fallen even further. The game reached around 12 million hours viewed per week. Meanwhile, Fortnite remained stable. StreamElements notes that Apex has lost around 75% of its peak viewership. However, Fortnite has already risen back above the 100 million hours viewed mark. All of this suggests that while Apex is undoubtedly successful and may yet rise to become a serious rival to Fortnite in the future, Fortnite is a juggernaut that is not easily contended with. Overall, the impact of Apex Legends only amounted to a drop pf -8.34% in hours watched for Fortnite in Q1 of 2019, compared to Q4 of 2018. Looking ahead to Q2, it seems likely that Fortnite will recover most, if not all of that loss.