Apex Legends Season 4 is due to launch tomorrow and to get players even more excited for the upcoming release, Respawn has released a brand-new Season 4 gameplay trailer. The new video gives fans their first look at changes coming to the World's Edge map, not to mention Revenant, the new Legend, in action. Plus, it also features a look at the Sentinel, the new Season 4 sniper rifle.
Apex Legends Season 4: Assimilation
The focus of the new gameplay trailer is showing off the World's Edge map's new fiery look. The addition of Hammond Robotics' Planet Harvester hasn't simply added a new location to the map; it's caused volcanic ruptures to change the landscape, splitting Capital City in two, and lending a fiery glow to the edges of the map. The map also now takes place at dusk, causing the sun to cast an orange light all over the map and further reinforcing the new aesthetic.
The Season 4 gameplay trailer also gives players a glimpse at the new Weapon Racks. These racks, which offer guaranteed guns rather than random loot, will be available in the new Survey Camp location. Of course, on the subject of weapons, the trailer also gave players a look at the Sentinel. This powerful new bolt-action sniper rifle features a charge mechanic, allowing players to fire more powerful shots, and setting it apart from the game's existing sniper rifles.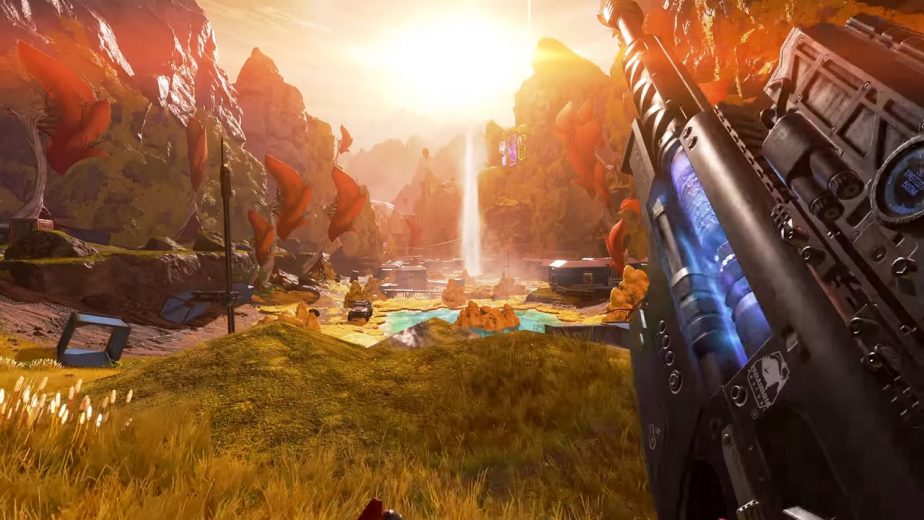 Finally, the trailer also showed a little of the new Legend, Revenant. Unfortunately, it didn't give any concrete information about his abilities. (Aside from that he seems to have the ability to climb walls!) The robotic Legend can seemingly plant some sort of diamond-shaped device, although the purpose of this is unclear. He also appears to be able to wreathe himself in burning smoke; something he did in the recent cinematic trailer. Fans hoping to discover what Revenant can actually do for certain will need to wait for tomorrow.