In one of the final giveaways of DICE's Road to Battlefield 5 promotional campaign, the studio has made the Battlefield 1 Premium Pass free for a limited time. Following two giveaways earlier this month featuring different DLC from Battlefield 1, gamers can now claim all the DLC in one fell swoop! There's only a few days to do so, though, so players looking to claim it should act swiftly.
The Battlefield 1 Premium Pass is Available for Free
With the launch date of Battlefield 5 fast approaching, the Road to Battlefield 5 campaign is also nearing its end. As one of the final giveaways of the campaign, DICE is offering all gamers the chance to claim the Battlefield 1 Premium Pass for free. The pass includes all four DLC packs for Battlefield 1; They Shall Not Pass, In the Name of the Tsar, Turning Tides, and Apocalypse. It also includes every add-on released for the game during its post-launch cycle. This includes 16 extra maps, 20 extra weapons, plus extra elite classes, vehicles, game modes, and operations.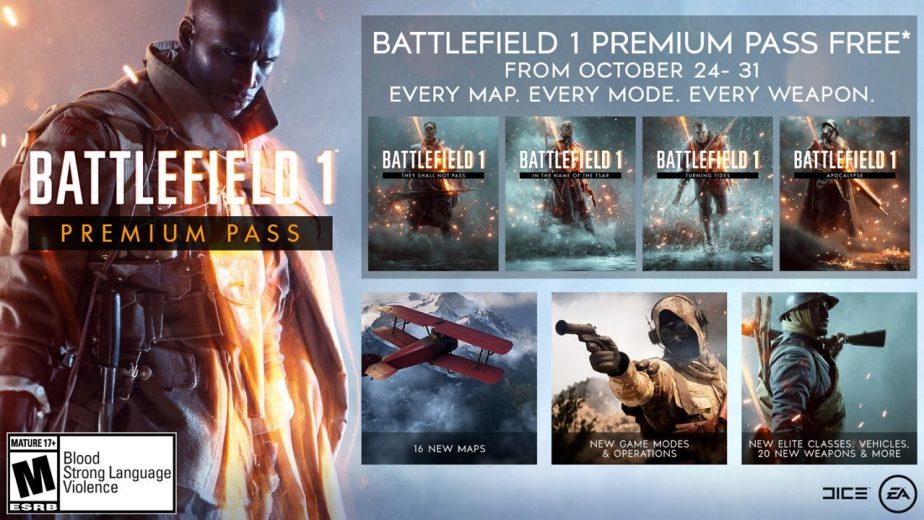 The giveaway is only available for a limited time, however. It will end on the 31st of October. DICE has published details of the pass and everything it includes in a recent news post on the official Battlefield website. During the giveaway, the Road to Battlefield 5 event in Battlefield 1 will continue to run. This event gives players the opportunity to claim special rewards for Battlefield 5 while playing Battlefield 1. Weekly rewards during the event can earn players weapon skins for the upcoming title. DICE is also running weekly map playlists with different themes.
These events and opportunities will come to an end when Battlefield 5 launches in November. As such, players should take advantage of them now, while they can. You can claim the Battlefield 1 Premium Pass for free across all platforms until the end of the month.